AlbertaTime in China #3 - Beijing w/ Joel Chan & the Yonghe Gong Lama Temple
(Friday, Oct 7/2011)
I'm sure at least some of you are aware of the terrific Micmicmor Vintage Watch, and its owner, Mr Joel Chan. While I often say I just "love the pretty watches", Joel is a recognized expert being one of early collectors of VCMs and probably the very first to bring the subject to the attention of western watch collectors through both his posts at WatchUSeek and his groundbreaking website, a VCM landmark before I even started collecting and a major inspiration to me. Careful attention to Joel's detailed and comprehensive articles have, among other things, saved me from purchasing any number of "less-correct" pieces. As well, Joel was even written up in Time Magazine. :-*
Well, in another banner day for me, Joel was kind enough to spare time to meet me at my hotel, treat me to an astonishing vegetarian meal at a fine restaurant, show me a number of drool-inducing vintage Chinese grail watches, gift me with three fine pieces for the AMCHPR, and take me to the Yonghe Gong Lama Temple. It was a very full day and I'm learning lots., and about much more than just watches.
So, in order:
The meal and company were both utterly top-rate. Joel is a true gentleman, very knowledgeable and perceptive and it's almost impossible to exaggerate the quality and deliciousness (is that a word??) of Beijing food. If I stayed in Beijing, I'd be a very hefty guy within months instead of the bonerack I am, I'm sure of it.
In photo #2 Joel is showing me (among others) a very rare (and very valuable) 1970s 29 jewel Shanghai military diver, even rarer than the difficult to find 24 jewel version. I have a 22 jewel re-issue which is quite nice, but nowhere near the obvious quality of the original, an exceptionally rare Shanghai SS1 prototype that is 19 jewels instead of the production run 17 jewel model, two...two...early 1950s prototype DongFangHong (the East is Red) pieces that were never publicly sold and that pre-date the A-581 and that are numbered in the couple of hundreds...tops, probably less.
As I mentioned, Joel also presented the AMCHPR with three very notable exhibits. Please excuse the bad photos..I don't have my usual watch-shooting camera and the lighting I have available is badbadbad, so I'll shoot better and provide more details on these pieces (including movement shots) after I arrive home...but here's teasers:
Mid-1960s Shanghai 1120 - 301 (early) SS1 pie-pan
Shanghai 7621 - 802 quick-set day/date (quite rare):
1984 Sea-Gull Chinese Antarctic Expedition ST5D model (almost pure unobtanium):
Following the fine meal and watchaholic session, Joel took me to the Temple (fixed the link):
The entrance:


...just inside the first entrance...
...and an exhibition of ancient Tibetan Buddhist statues that's in a smaller building inside the temple grounds:
...a closer look at just one of the intricate gilded brass statues...
...inside the temple grounds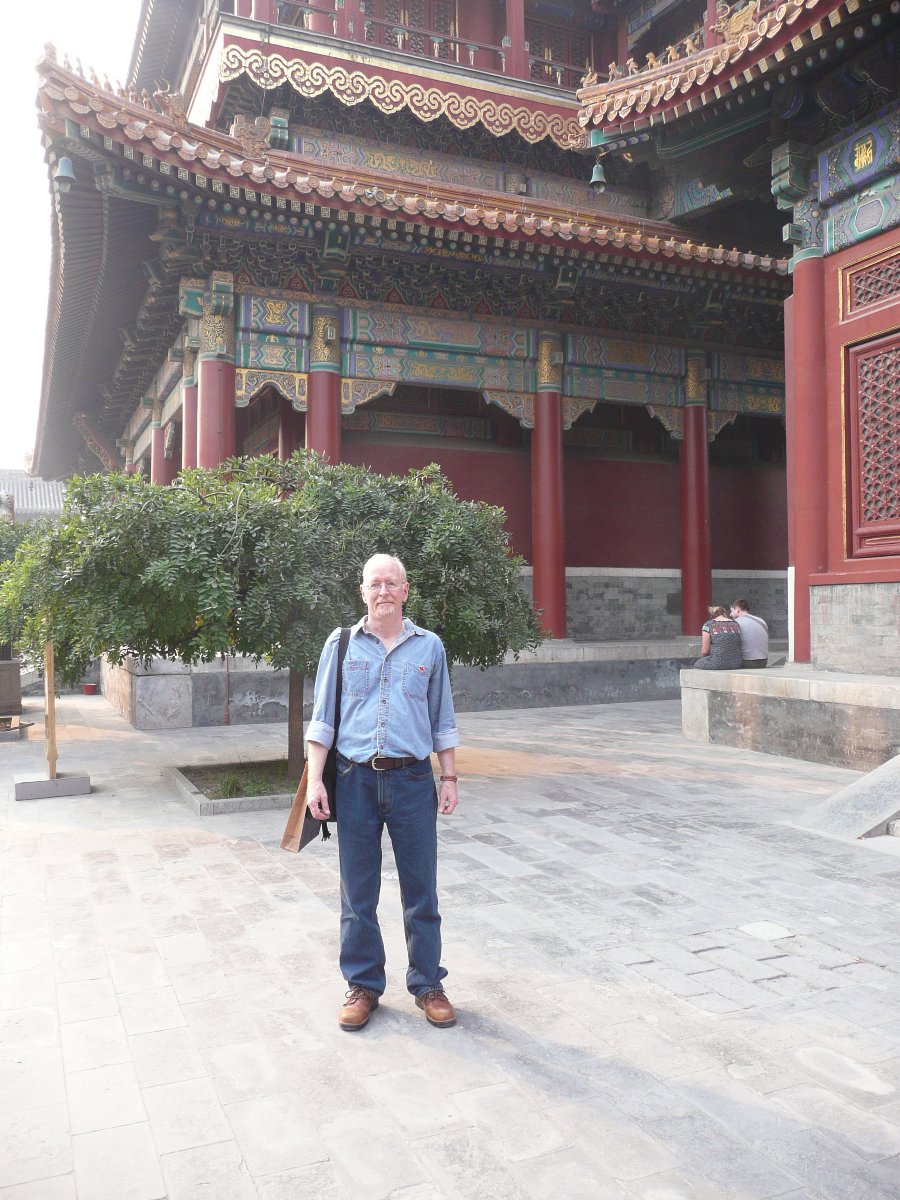 I had a wonderful time with Joel and I'm planning to meet with up again before I leave China as I'll be back in Beijing for a few days just before I return home.
After Joel and I parted ways, I took a long evening stroll around my new neighbourhood, including the Dongsi West main street and throughout the Lishi Hutong...
...a section of Dongsi West with a huge TV screen:
The Lishi Hutong...I mentioned yesterday feeling totally safe even in the darker alleys. The Lishi Hutong at night is a perfect example. The first photo is about 30-50 yards inside the main hutong alley:
but go a bit further and things lighten a bit and get busier with small grocers (everything you'd expect including very fresh vegetables, fruits and nuts) and local eateries (and the food's inexpensive, tasty and filling) and what are obviously small neighbourhood pubs..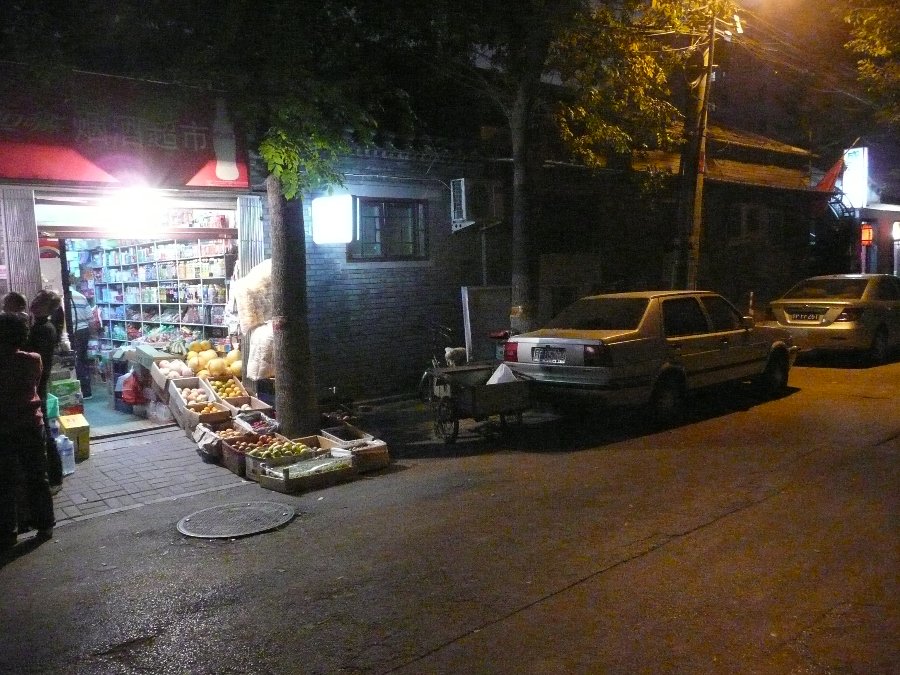 So, to end this post...many many thanks, Joel, for your generosity and hospitality, and also to the many other Beijing citizens who took a few moments this evening while I was wandering around to make a visitor feel welcome. I guess I don't look like I'm from around here ;)