AlbertaTime in China #3 - Panjiayuan Antique Market and the Hutongs
(Sunday, Oct 9/2011)
The last few of days I've spent doing my own version of the tourist thing. I mean, I have some limited interest in the widely known tourist spots, but my main interest in China is is the day-to-day lives of "just plain folks". And it's really the same with the Chinese vintage watches; I have some interest in the reason they're named what they are (political, cultural or geographic stuff usually) but after all the info about movements and production dates and such, what I really connect with is: who made 'em and who wore 'em.
(I confess, I did make a half-hardhearted attempt to see the Emperor's Palace and Tienanmen today...but when I got near the place it was horrendously crowded because that day was the last day of China's "Golden Week" holiday...so I pulled the pin on that and went over to Panjiayuan market for a second time, but not for watches. I wanted to just hang out, watch things and maybe pick up some inexpensive old artwork...prints and stuff about daily life in China during the times the watches I collect were made.
And, I also wanted to say thanks again to Mr Cao as he'd treated us very nicely, and he has a second shop in the Panjiayuan as well as the smaller market Martin and I had first visited.)
So, that said, here's my report on the last few of days...
First: some photos of Panjiayuan market on a very busy Sunday...
...an entrance to the market...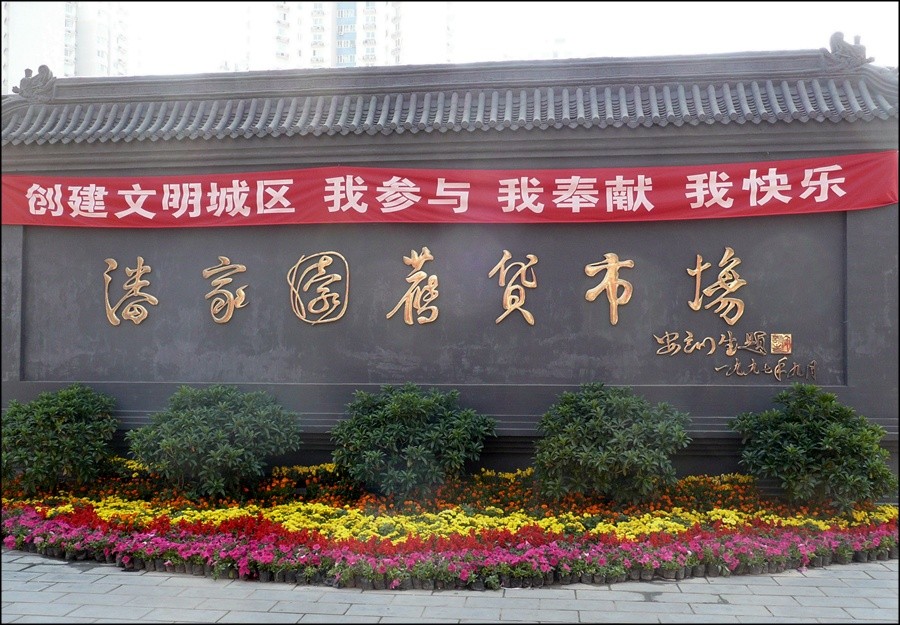 ...and just scenes of market life...
...this is how many sellers bring their goods to the market...
...and here's sellers starting to pack up as the market closes in the late afternoon...
...everybody in the family taking part...
And...as I mentioned, Martin (martback) and I went to a couple of markets mentioned in my first report, and we'd met Mr. Cao at one of his shops, Here's Mr Cao, the watch seller ,at his second shop in Panjiayuan (a shop on the second floor of one of the larger buildings in the market area for shops that are held by more established sellers)...
Now, leaving the market...
I've noted in my earlier posts that the downtown hutongs are fascinating to me. Basically, most hutongs (at least near where I stay) are a collection of buildings and/or home compounds on both sides of a single alley that's 12-15 meters wide...and each multi-family home compound will have a number of dwellings inside it. This next photo is a top down view of all the hutongs (more or less, the light gray routes) in the very, very large square created by being surrounded by a rectangle of major streets. I've outlined the major streets (and noted the location of the Lishi Hotel where I stay) in yellow.
The rectangle is roughly 600m (or approx 2000 ft, a little more than a third of a mile) wide and I've walked every single gray path a few times now, both daytime and night-time, plus around the rectangle just as many times.
The neighbourhoods/hutongs are busy and crowded and the entire area bustles with activity from about 7 AM to maybe 10 PM after which it gets largely quiet, although not silent, and the alley is almost vacant of people. I tried not to take photos of too many people in the alleys because I didn't want to brutally intrude, so I generally waited till fewer folks were in camera-range for wide shots. I always asked individuals for permission. But during a normal daytime or early evening walk from one end to the other of each single hutong, I'd often see a hundred or more people, either in the alley itself or in one of the side areas/businesses.
So...my hotel, the Lishi Hutong in Beijing...
...and a daylight view of a small section of the Lishi Hutong taken during a short vacant moment...
The next photos are just shots taken inside the various hutongs in the rectangle noted above...
One thing that is quickly (and wonderfully) evident in the hutongs is the sense of community, and it has been mentioned to me that this sense of community is vastly stronger in the hutongs than what takes place in Beijing's mid- and high-rise apartment areas. Keep in mind that some parts of the hutongs are centuries old.
...and a closer look at the sign...
Another agency (Chinese Red Cross) servicing the local hutongs...
...close up...
You'll find signs like these next two throughout the hutongs...the first is about good community behaviour with pooches...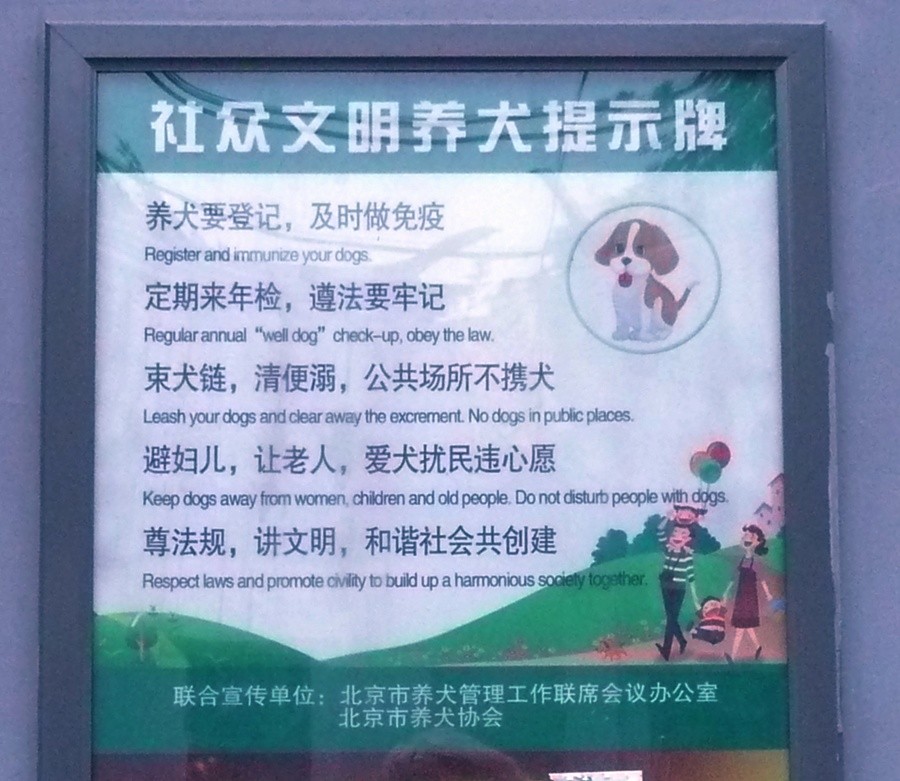 ...and this second I'll leave to better translators than me:
Here's a grandpa, a kid and a pet...
and the little one being taught to say Ni Hao to the stranger (me) :)
Pet dogs are common in the hutongs, and there's a story that goes with this one...
I was walking down one of the hutong alleyways and encountered an older woman and her dog. I sort of signed asking if I could take a photo and the lady smiled and nodded yes. Now you can't tell this from the photo but here's what happened, and why the dog and the lady aren't looking at me. And you have to keep in mind that I've taught myself a few phrases in mandarin.
When I knelt down to take the photo, the dog started snarling at me, defending its owner, and a few of the lady's neighbours started giggling. In my best stage whisper foreigner's Mandarin I spoke...directly to the dog, saying "ni hao...xinkule, xie xie nin" which is roughly "hello, thank you for all your hard work" :-*
The lady and the neighbours just howled...and so the dog is looking at the neighbours that are behind me, instead of me, because everybody is laughing hard, and if you blow up the photo you can see the lady is laughing out loud too. They were all still laughing as I continued down the street. ;D
This next is a history found on a wall near the entrance to the Bensi hutong, one of the others in the yellow rectangle ..
Even if a bit old, these are perfectly good bikes and motor scooters, perfectly safe overnight in the hutong and not a single one locked up...
By the third day and night of me walking around taking photos, saying hi or ni hao, or petting dogs and such, people were getting used to seeing me and making more advances to meet, as much as we could given I don't speak any more than a few words of Chinese...
On the night before I left for Shijiazhuang...
I learned that these two gentleman had gathered (because I gave an "AMCHPR calling card" to a group of friendly teenagers earlier in the day) a bit of what I was about, so the fellow in the blue shirt said "Canada!" and smiled when I walked by, and he mentioned to his friend a word I recognized: shoubiao. I smiled back and walked over to shake hands, and a third neighbourhood resident kindly motioned for my camera...
A little later that evening, this young fellow was obviously trying to learn a little guitar, and he said ni hao as I walked by. He was playing a very basic sorta 3-chord rocky thing at the time. Well, musicians are musicians the world over and a half hour later, without any common language, he was learning and playing some basic lap-steel style drop-D slide blues with his lighter, and a whole whack of neighbours were very impressed with him, encouraging his efforts and clapping as he played. Again, a resident offered to take a photo (yes, the cameraman was smoking ::))
I'm very grateful to the many people of the hutongs for treating me with such friendliness.
And (since some folks said they liked 'em), random night shots of the hutongs...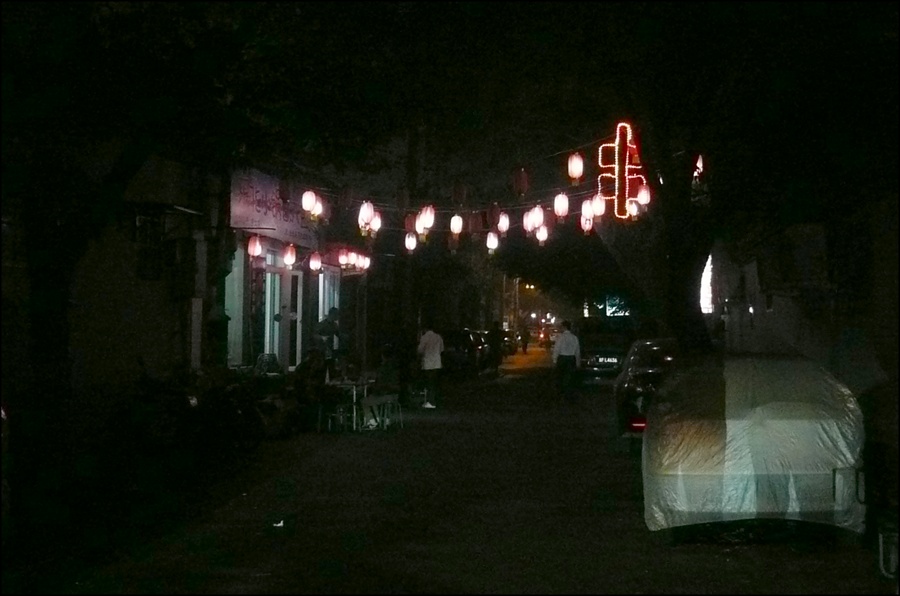 And now, a few miscellaneous shots from the major streets that surround the area of hutongs...
Rental bikes found around the city...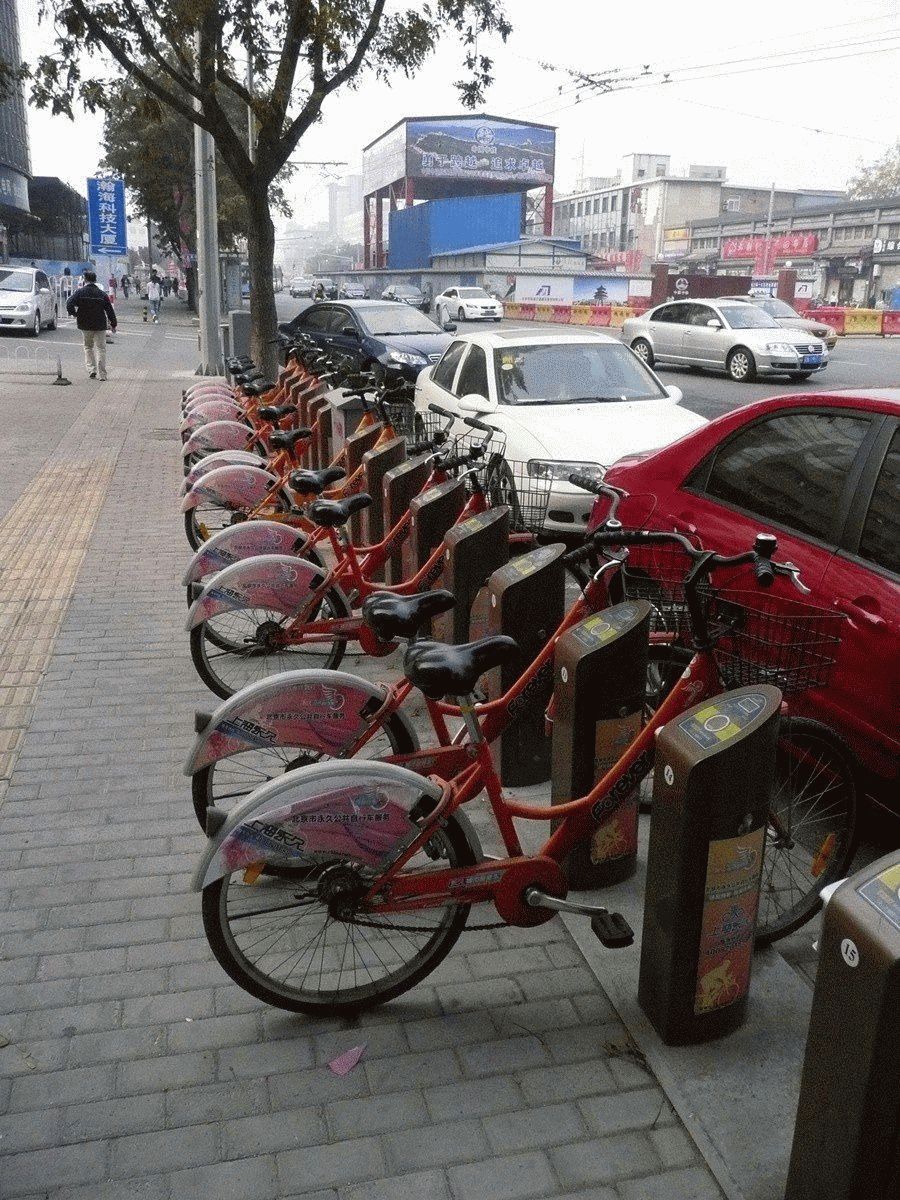 ...a neighbourhood floral display..
...a cool building...
...a wood carving on Chaoyangmen St.
...more pets...
...another beautiful building...
I have no idea what the Hushang Birthplace is...
...and: certainly not the hotel where I stay...
Next report: Leaving Beijing for Shijiazhuang, and (finally) meeting my valued friend, Taobao's Ma Rong/Cameron Ma...