The AMCHPR 2015 China Tour - Part IV : QingPingShan Park, Xinmi and Luoyang

The AMCHPR Summer 2015 China Tour - Part IV - Luoyang: VCMs, quest success and more
This post has two sections. First, a look at one of Xinmi's largest park areas, QingPingshan (mountain) Park, and then "The Quest" in very scenic and nearby Luoyang, on another day, my last day in Henan.
After this post, it's off to the 100th Anniversary of the Yantai Polaris Watch and Clock Factory, which, just due to the event itself, counts as 100% horology content. This post, though, does have some real honest-to-goodness VCM content, I promise...but it's nowhere near 100% of the post.
Part One: QingPingshan Park / (Part Two: "Luoyang and the Quest" is about 1/3 down the page).
The Qingpingshan Park trek in Xinmi, from the QingPing Hotel, is a really very peaceful walk, strenuous on the way up, then a calm and quiet stroll over Qingpingshan Hill , before heading back down to the city. My friend, Sky, and his wife and mother, and delightfully cute little daughter guided me. The initial photos don't show the clmb because, dumbly, I didn't start shooting til we were halfway up. And even then, I shot what was at some of the levels as the hill was terraced, but nothing showing the overall climb, except for just this one photo of a between levels staircase.
So, imagine at least one, and often two or more, set of stairs this angle and height between pretty much everything in this section, up until just past the fishing spot (you'll see). And, the climb up at the beginning is equivalent to the climb down at the end :-). You'll see that, too.
As we left the shops and busines area of Xinmi for the entrance sections to the park, one of the first things I noticed was this outdoor croquet court...
...then further up the hill to this park area...
...and further up...
...and even higher...
...and higher...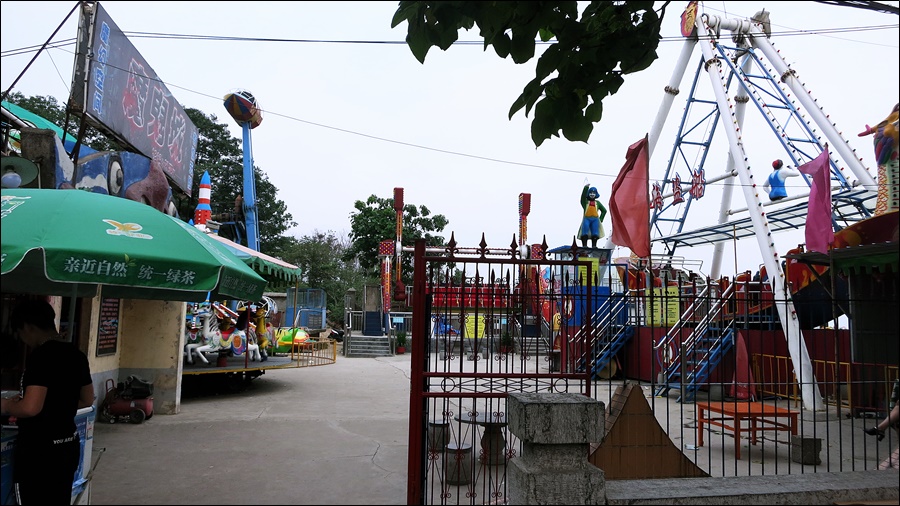 ...and higher, looking down at the bumper car level...
...higher, a roller skating level...
...then, the fishing level at the summit...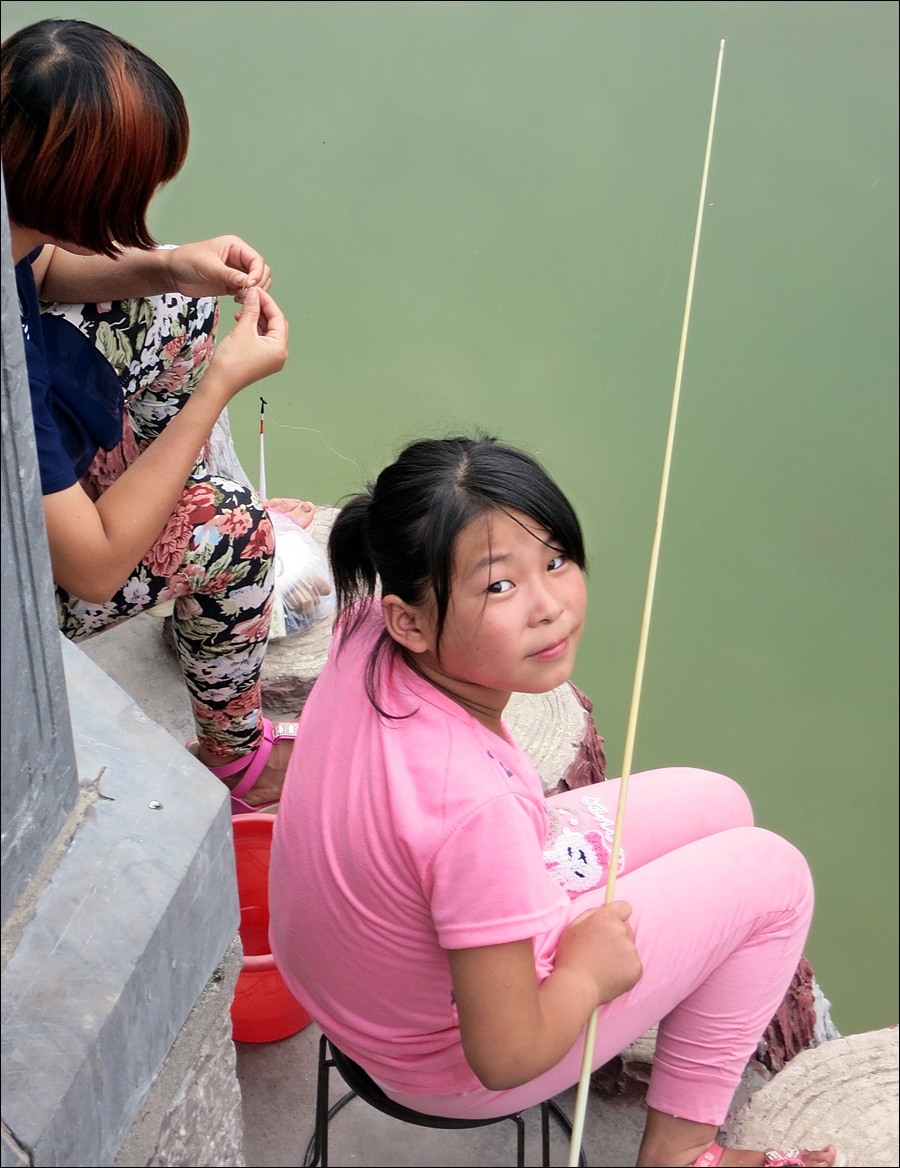 ...and a kid with bubbles...
...the walkway across the summit area...
...the spire at the summit...
...a pooch, just because...
...then looking back at the spire as we start downhill...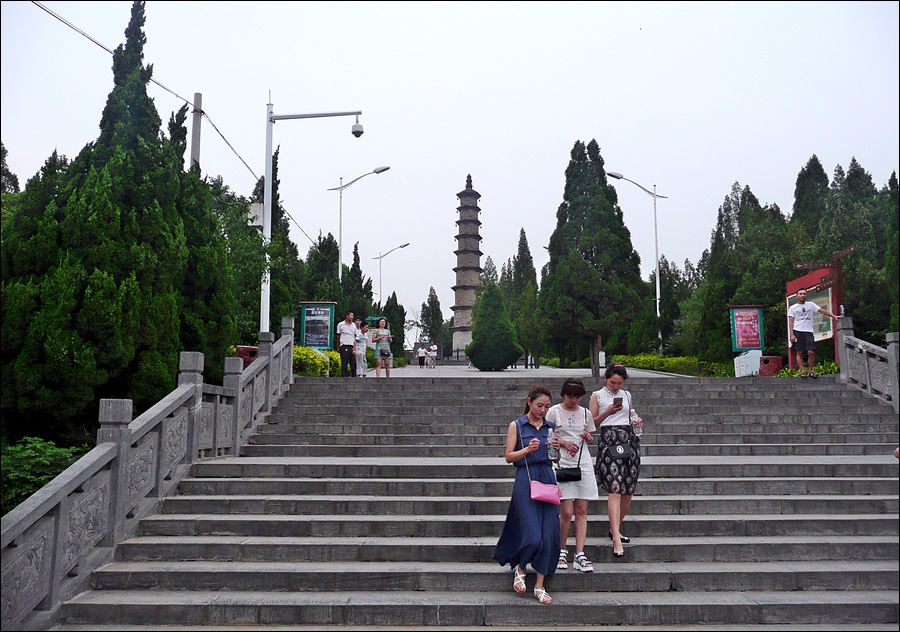 ...and further down...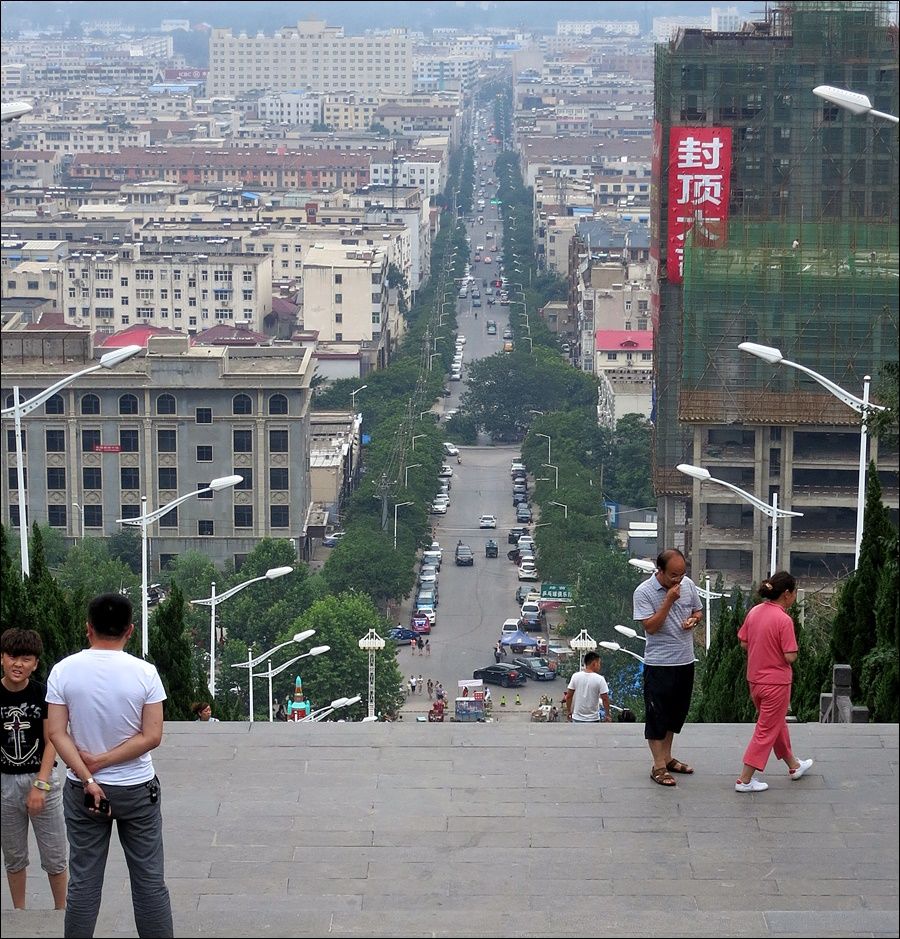 ...some folks in Xinmi that traded photos, them for me, and me for them...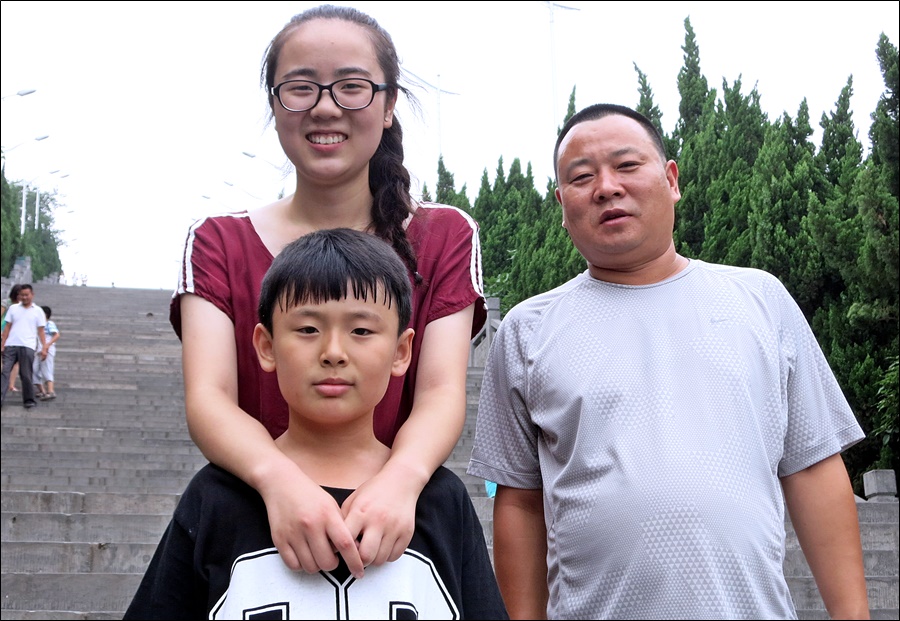 ..a couple of people whipping top link goes to a "whipping top" video, taken by me, but in Shijiazhaung, Hebei, China, in 2013)...
...and yet another area in Xinmi with rides and amusements for the young ones! :-)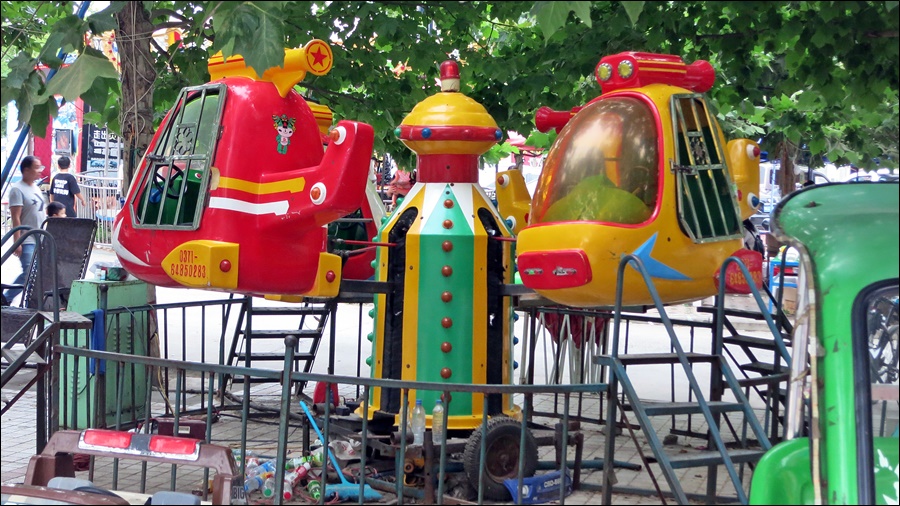 ...which ended the trek/tour of QingPingshan :-), and leads to...
Part Two: Luoyang and the Quest.
Luoyang is about a two hour drive from Xinmi, and I'd visited there two years before. It's a historic and beautiful city, and even now with my two visits, I still haven't near been to all the places around Luoyang that are worth seeing.
I wanted to go back, though, for a reason that had nothing to do with local landmarks. Instead, I wanted to see someone. Again. So, even before I arrived in Xinmi, I'd arranged with Sky to go on a person-hunt in Luoyang during our time together. So off to Luoyang we went, me, Sky, and a few of his family members, on The Quest. We were heading straight to one of the oldest sections of Luoyang. Sky's a guide, and he knew the area, and he could take me straight to Mr. Li's address.
Two years, previously, I'd met this man, Mr. Li Jiushun, who lived at this address, one gray and cool morning while I was in Luoyang when we'd encountered each other (two photos from the 2013 post).
Mr. Li had, as I noted in this original post, very kindly, and in very basic English with Chinese and gestures, asked me to his home to have some tea and to see some art, making clear his intent was not to sell anything, explaining that his house was 200 years old, and because he'd heard me talking about old watches to a local modern roadside Chinese watch seller, he thought I'd be interested in history.
The details are on the linked page, but suffice to say, we only spent about two hours together that morning, but it was one of the very high points of my entire visit that year. It was a very kind and trusting thing he'd done, especially not knowing me at all, and I'd come to know him as an artist...and a gentleman. Before we parted ways, he handed me this envelope with his contact information.
But I didn't know how to write him with any success because we didn't share a language to any degree. Instead, I'd made up my mind I wanted to see him again, in person, to thank him, if I ever could, and to take him out for a meal. I was pretty sure he wouldn't be expecting me ;-) as we'd had no contact since.
This way, too, I'd have Sky as a translator, and with Sky's help, I could tell Mr. Li how much his gesture had meant to me, as well as just get to know him better. This was a priority for me; I'd planned to go last year when I'd had to go to Shanghai instead, so this was a year even later than I'd hoped and I was really looking forward to seeing him.
We arrived in Luoyang about 9:30AM, through this gate to the old area...
My first hint things might not go as smoothly as planned was when Sky remarked that these buildings near Mr. Li's home all had these red markings...
...meaning slated for demolition.
Still, I was pretty excited when we were getting very much closer...
...and closer...
...and the reason for the demolitions...
...and here I was, back at the address from two years before. I'd see mr. Li in a couple of minutes. It was about 10:00AM.
And Mr. Li wasn't there.
Sky asked an immediate neighbour where Mr. Li might be, and the neighbour replied they didn't know. Mr. Li had moved to another apartment somewhere...in a city of 1 1/2 million people...because everyone was moving away because of the upcoming demolitions, and they didn't know where he lived.
But they might know someone who might know...and they could call, which they did. But the folks who they knew that might know, didn't. The neighbours suggested we come back later while they'd try some other contacts to see if they could track Mr. Li down. I was hoping for some luck here because if not today, it was maybe never. I was leaving Luoyang early the next morning.
So we wandered around the old area of Luoyang for most of the day, coming back every hour or so to see if the neighbours had any luck, and no luck. Still, this area of Luoyang is fascinating on its own terms, and when I'd been there before, it was a gray, kinda cold day, as I'd said. Today was gorgeous, hot and sunny most of the time, and between eating some great local food for lunch, visiting the area shops, and photography, the day proceeded nicely. Except for the quest. Here's some scenes from the area, the neighbourhood and the shopping streets.
And what are the mannequins doing in the middle of the road, you ask? I asked Sky. He explained that they held parking spots. Excellent...never seen that before.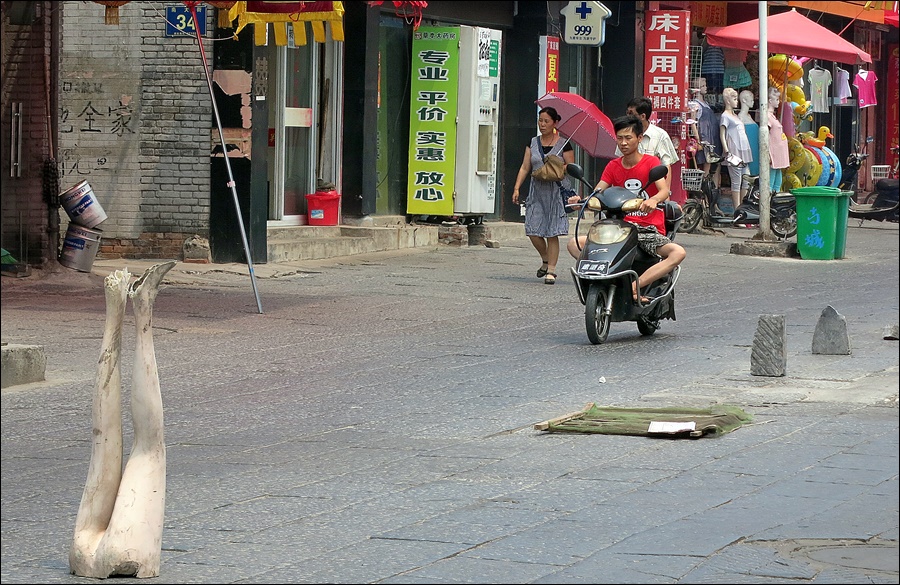 WATCH CONTENT STARTS HERE!! :-)
Almost exactly at noon, as one can see by the clock in the window, I chanced upon this shop.
Looked like a watch shop to me, even with my poor Chinese reading skills. I've had some nice finds in small shops and this was to be no exception. Nothing overly rare or expensive, but both good, handwinding, tongji movement VCMs for the AMCHPR collection, one in great shape, one in good shape, both complete with anti-magnetic domes inside, and with correct crowns, even. They're the only VCMs I bought this trip, and I think they're special just because where I found them.
The Haiyan:
The Jinji:
Some more walking around shots...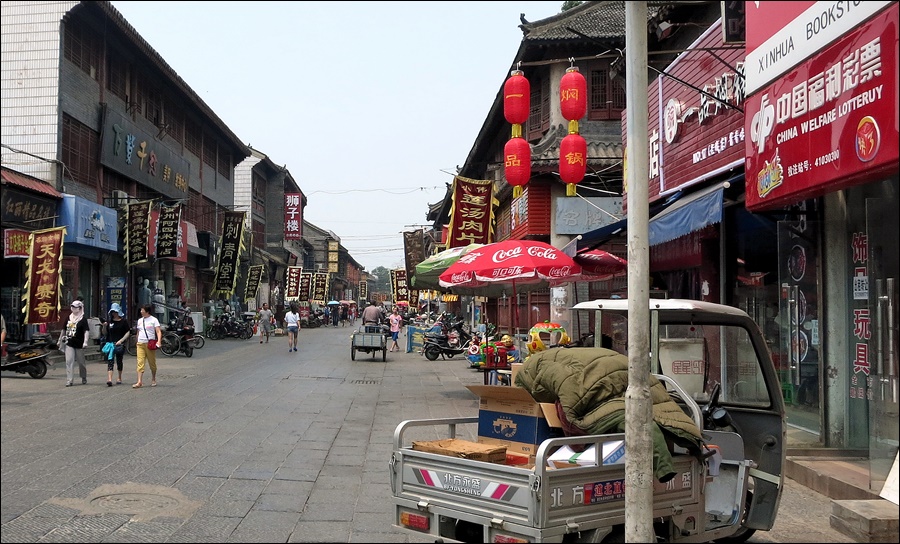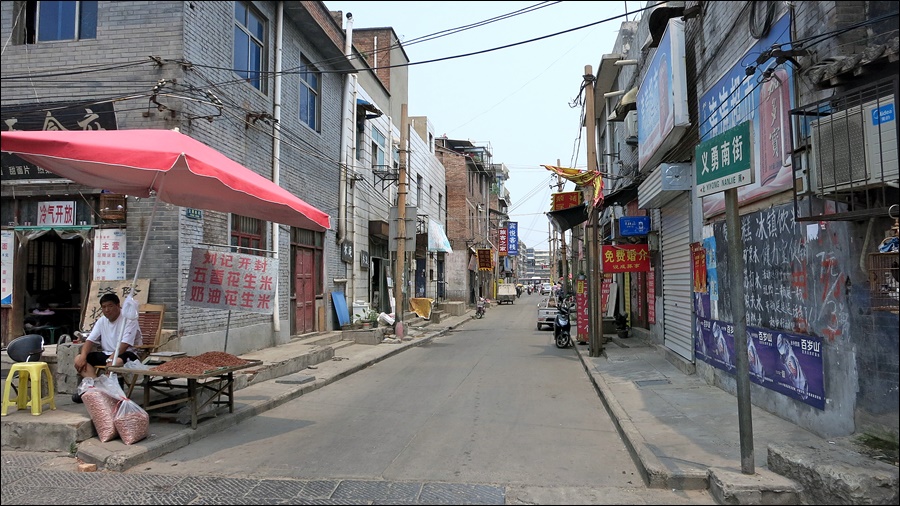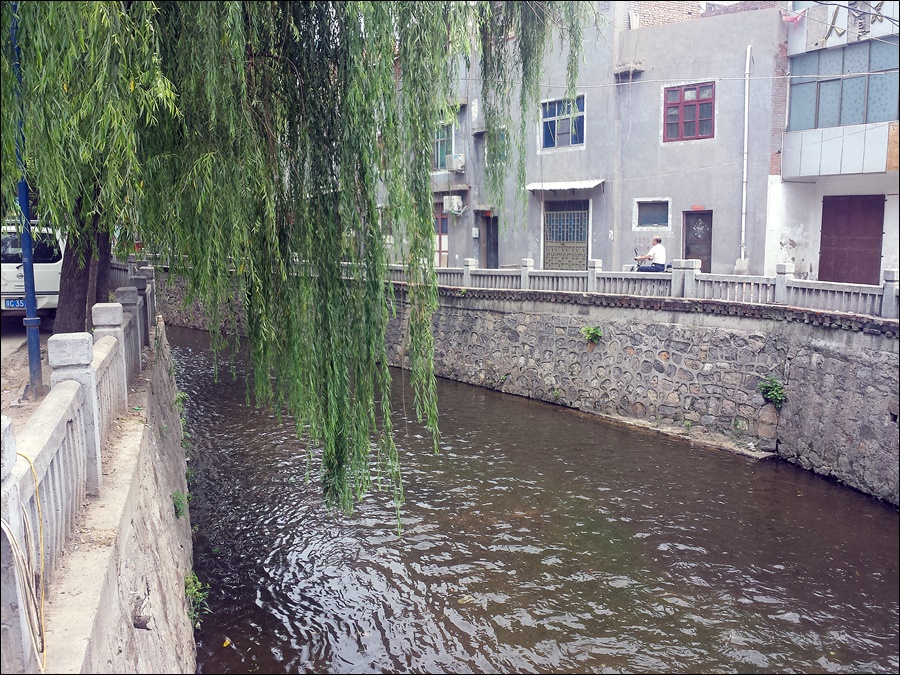 (and here's something else I'd never seen: cactus growing on a roof...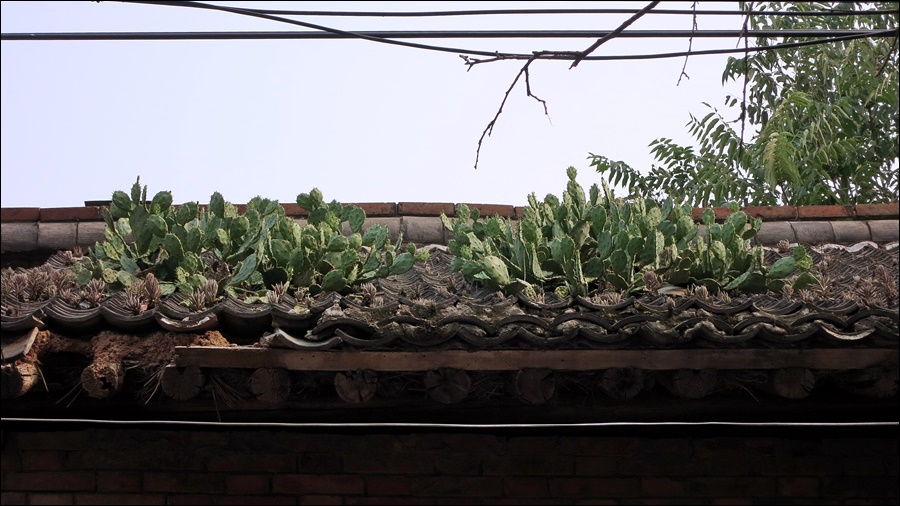 At about 5PM, we'd pretty much given up hope to find Mr. Li, so we headed back one last time to the old street to thank Mr. Li's neighbours as they'd tried many people over the past few hours hoping to get Mr. Li's whereabouts.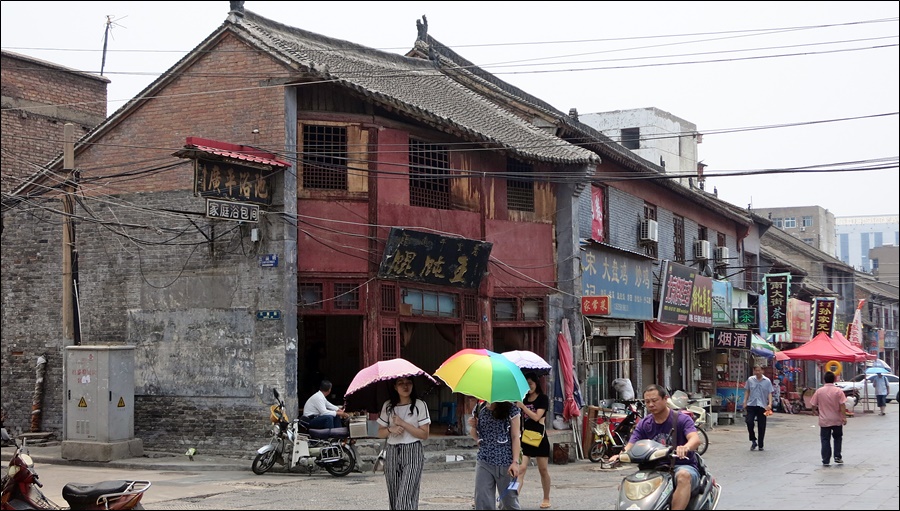 As we were thanking them and saying goodbye, a phone call came in. It was Mr. Li :-)!! The grapevine had reached him and he was coming down by cab! It turns out he didn't know who he was meeting; he had just been told there was "a friendly foreigner" looking for him. He'd be about a half hour :-)
Well, he arrived, and was plainly quite surprised....but he recognized me right away, with a great smile. Time was getting on if we were going to get back to Xinmi in decent time, so we decided to head without delay to Mr. Li's new place, as he wanted me to meet his son and grandson, before we went for dinner :-).
It was explained to me, with the help of Sky's translating skills, that Mr. Li is a well respected calligrapher and artist in Luoyang. His art is mostly focused on working with found shapes in wood, adapting the found shapes to new ideas. Here's some of his work and -- in the last shot before heading for dinner -- a shot of me with two pieces Mr. Li gave me to take home, one completed (the boxy one) and one "in progress," like our friendship. (Yes, we were hurried, and my collar in my shots with Mr. Li proves it ;-))
And a shot of the two pieces at my home.
Photos and meeting the son and grandson accomplished, we headed out to dinner, Mr. Li's choice, and leading the way...but my treat.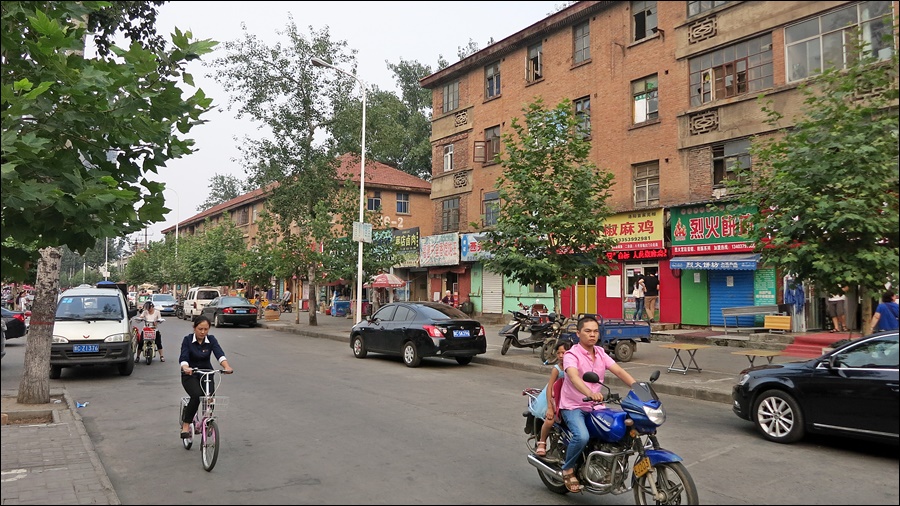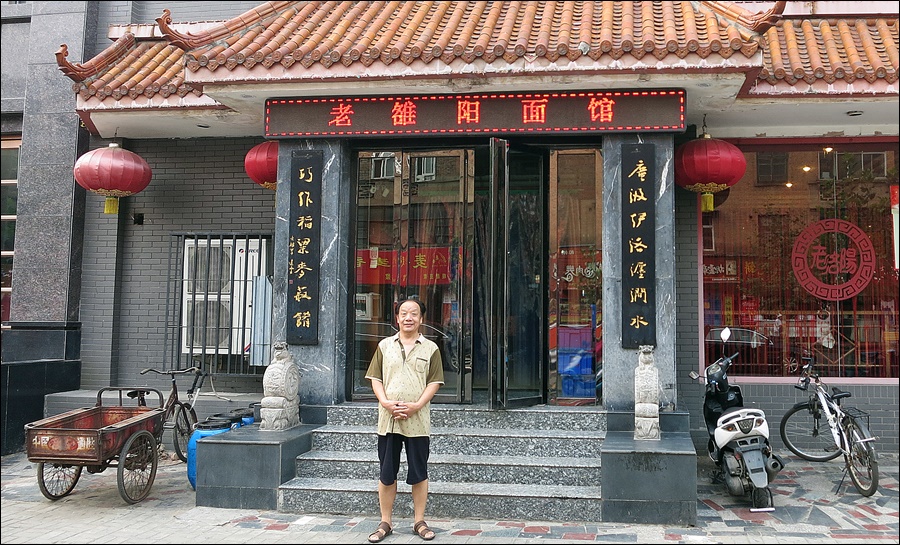 And Mr. Li, Sky and the family members that had joined me for this quest. And I can't think of a better way that day could have ended. Mr. Li doesn't use WeChat but his son does, so now Mr. Li stay in touch a bit more often :-)
Here's our toast to a successful quest, and our continuing friendship!
The next morning, I headed to the airport and Yantai for the 100th Anniversary of Yantai Polaris.
The teases...