AlbertaTime 2nd visit to China - 1st and 2nd day: Shanghai with Joel Chan
(April 3/4/5/2013)
I arrived in Shanghai successfully on April 3rd (Shanghai time) and was almost immediately met at my hotel by the very gracious Joel Chan of Micmicmor Vintage Watch. We had a bite to eat and good chat after which I crashed solidly since I'd been up 28 hours straight, too excited to sleep on the plane ;-) and the trip had taken that long with two flights, layovers and customs and taxis, etc...

First order of the following day was an awesome Chinese style breakfast feast at the hotel (included with the room) followed by a walk around the streets and park across from the hotel. (The first three photos coming up were actually taken from my 6th floor room just before dusk from my hotel on April 3rd, before I met with Joel. The rest are from the 4th... )
The following morning, the 4th, I took a walk around the neighbourhood.
Joel met me later that afternoon (the 4th) and we headed to Dongtai Lu antique market to fill some hours before a very special Dinner that had been arranged for my arrival (more on that later in this post), so here we are at Dongtai Lu.
Joel is used to it, but my VCM brain went into overload...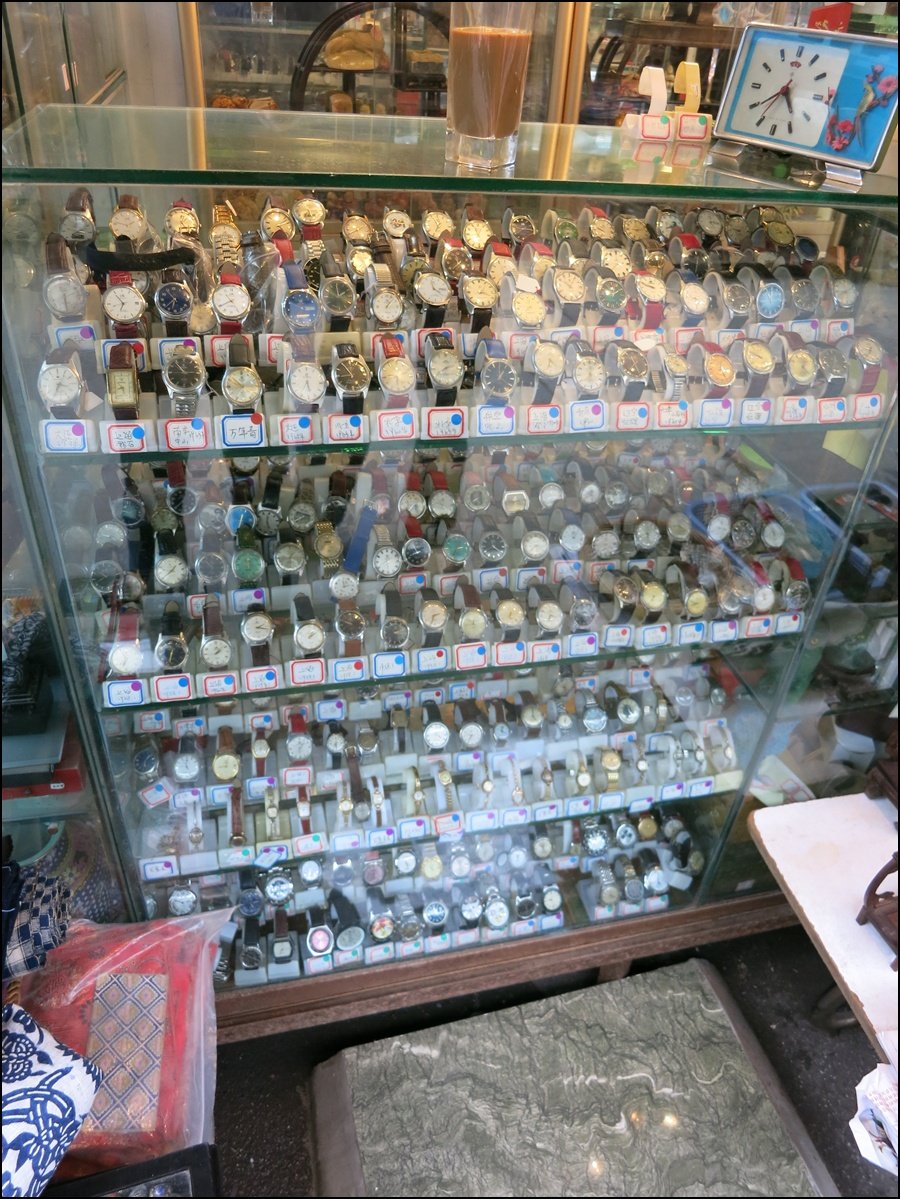 Joel has known this seller for years, and I was very pleased to be introduced to him...and his stock of VCMS ;-)
Then it was on to the very special Dinner...
Shanghai April 4th/2013 evening
I owe very special thanks to Mr. Cheng of the Chinese watch site Yiwatch. Mr. Cheng was kind enough to make the arrangements for this heartwarming "greet the foreign visitor" VCM Dinner that very appropriately highlighted the achievements of the Shanghai Watch Factory in the 1950s and 1960s. I have no sufficient words to express my gratitude or his efforts.

I owe many thanks as well to all who attended as I was shown superb hospitality and friendship by everyone. I had a great time over nicely strong rice wine, very good Chinese beer :-) and lots of excellent food, most of which I'd never tasted before b-), and reports on Yiwatch suggest the fun and friendship was shared :-)

I am honoured to introduce the guests that assembled at the event:

Back row from right to left:

Mr Cheng, the webmaster of China's yiwatch.net and camgle.com (a watch and camera site, well known in China);
Mr Zhu, webmaster of the Chinese watch forum at www.watchstore.cn which has a popular forum area.;
Mr Shao, also webmaster of the Chinese watch forum: yiwatch.net, and the very experienced VCM collectors:
Mr Liang,
Mr Xia,
Mr Sun.

Front row from right to left:

Mr Jiang Qing, Designer of the Shanghai Watch Factory SS1A movement (1966);
Mr Tong QinFen, former Production Team member for the A581 movement (1955) as well as the former vice chief engineer of Xian HongQi Watch Factory and the former Senior Engineer at Shanghai Watch Factory;
me; and
Mr. Joel Chan of the Micmicmor Vintage Watch website.
And here are some other "special guests" at the table, most I never thought I'd ever see in person, let alone touch....

...a very rare 24 jewel non-diver military issue Shanghai...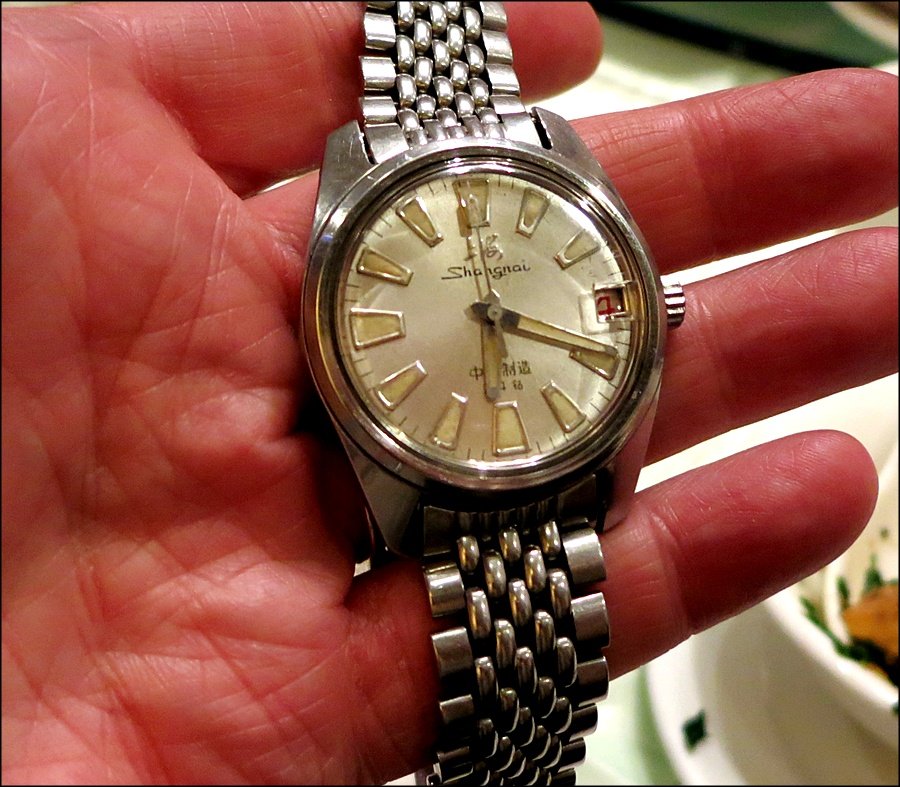 ...a very rare 17 jewel Shanghai watch, marked for military use...
...a rare 24 jewel miltary diver...
...followed by an even rarer 29 jewel version...
...and a very rare ZuanShi SMI with date complication...
...an original and rare "panda" 581....
...a stunningly rare Dong Fang Hong "East is Red"...
...followed by an equally stunning and rare He Ping "Peace"...
...an uncommon "sitting" XiongMao...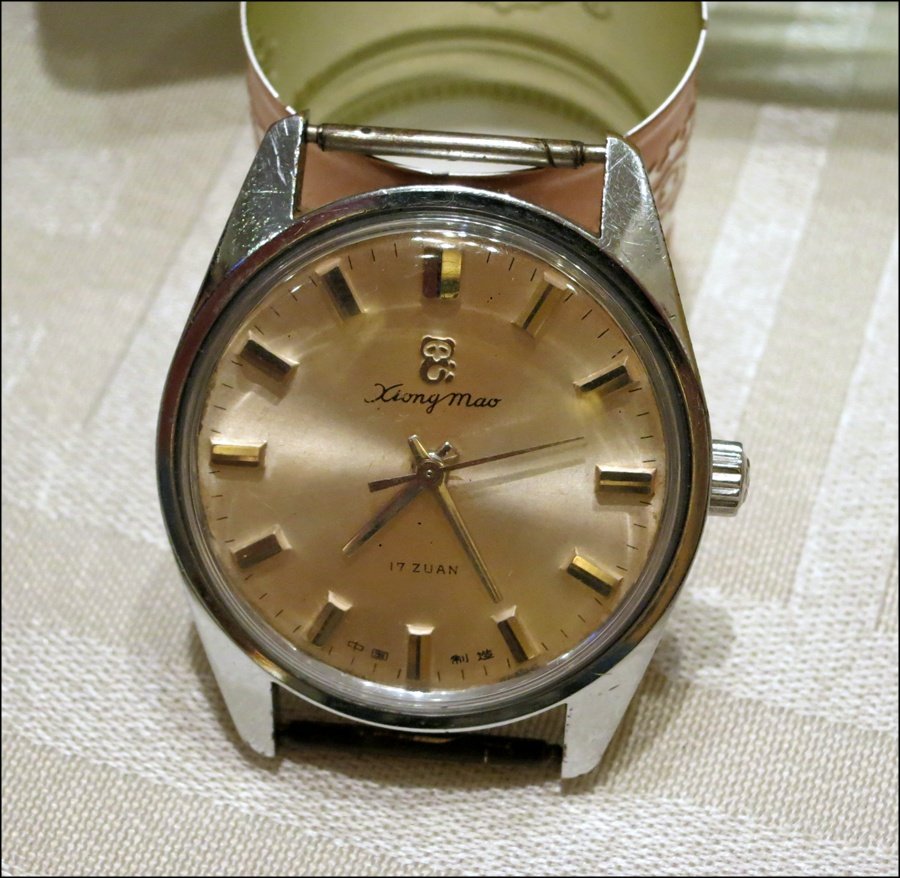 ...an original 1960s Chinese Air Force chronograph (note the sub-dial hands with no "tail", just to muddy the details of the controversy about which side "properly" has the tail ;-)...
...and rarest of all (here ya go, Chascomm!...with movement shots especially for you):a Shanghai 24 jewel automatic with date. I very graciously received special permission from the owner to show this watch as Joel noted that it really hasn't yet been seen in this detail even on a Chinese website.
I also want to note that the AMCHPR was gifted at the Dinner with 10 quite hard to find vintage Chinese mechanical watches (no, none of those), plus a set of beautiful Zhongshan dials as well as some scholarly research papers that will need to be translated before I can post them at the AMCHPR...but I'm a shameless tease, so that's for a future installment :-d

...and here's the translation of the Yiwatch report of the event:
April 5th/2013...Shanghai continued...
So here's April 5th, starting with a morning return to Dongtai Lu antique market, followed by an afternoon cruise around...at Joel's suggestion...the very busy Cheng Huang Miao not-antique market. It was a kinda cool, sort of drizzly day, but I used to live in Vancouver and on Vancouver Island so rain's no stranger, and now I live in northern Alberta so I didn't find it cold at all...didn't even need a jacket, but it seems everyone else did ;-)

First, Dongtai Lu...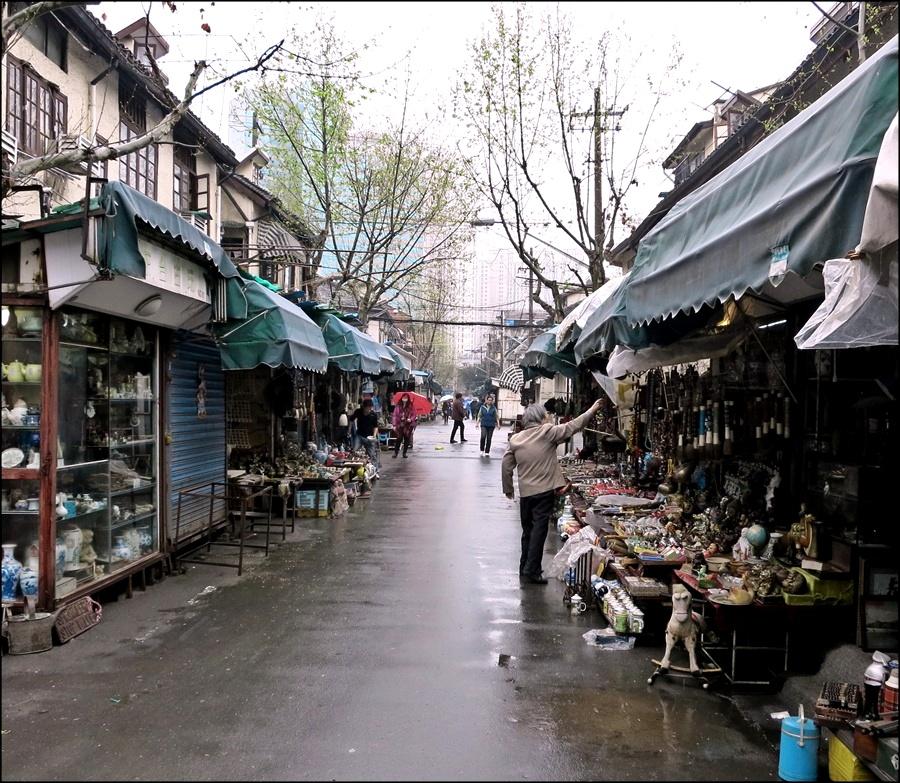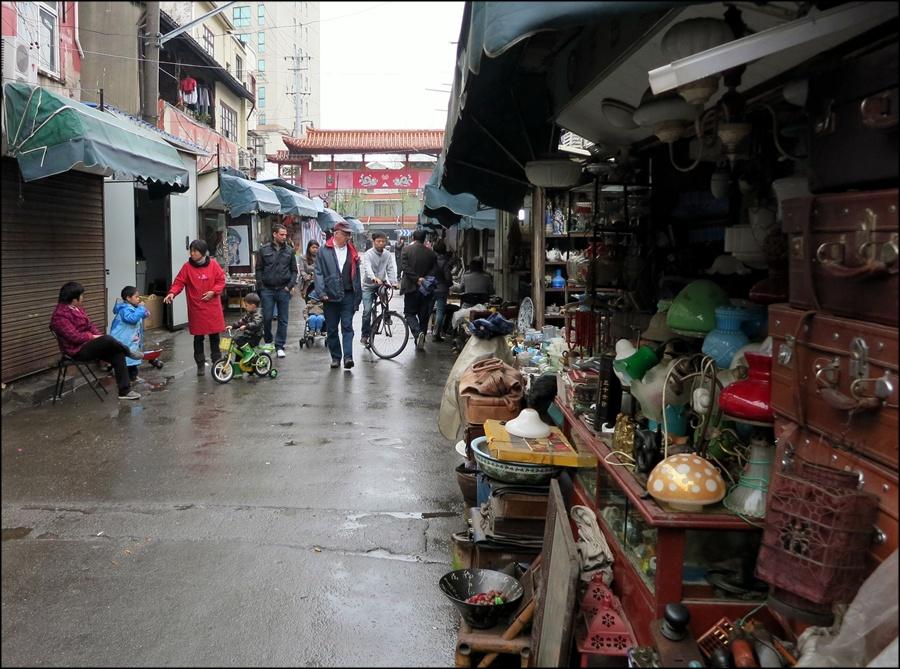 ...after which I grabbed a cab (about 50 RMB or less -- maybe $8 -- for a twenty/twenty-five minute ride) to the entrance of Cheng Huang Miao. I'll note that in the middle of the Cheng Huang Miao photos are a few from the surrounding non-touristy area, since I have a tendency to wander off the beaten path. Cheng Huang Miao is a very wide-ranging collection of mosly small consumer-level retail shops from inexpensive tourist goods through jewellery and home design to high end collectibles and furniture. And lotsa stuff in between.

Judging by the photos, it seems a popular place :-d
So here's where I get off the beaten path, to an adjacent area of much more local shops...a neighbourhood, really, and just the kind of place I like to explore. Normal, non-tourist day-to-day Chinese living in a somewhat downtown neghbourhood. You'll see a quite nice small park area. That's where I found a small cafe hidden in the trees, and had a great lunch of beef and noodles...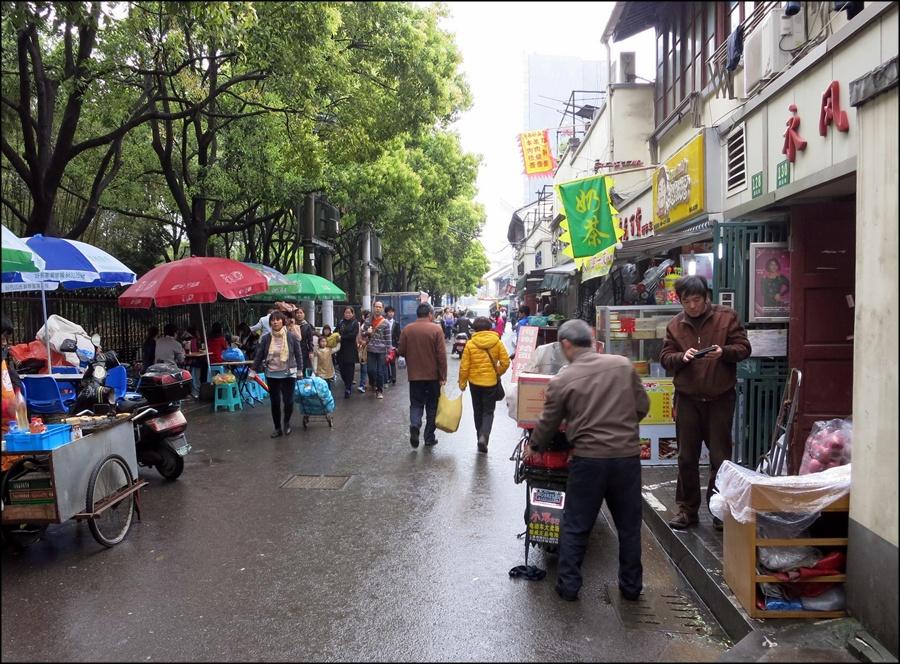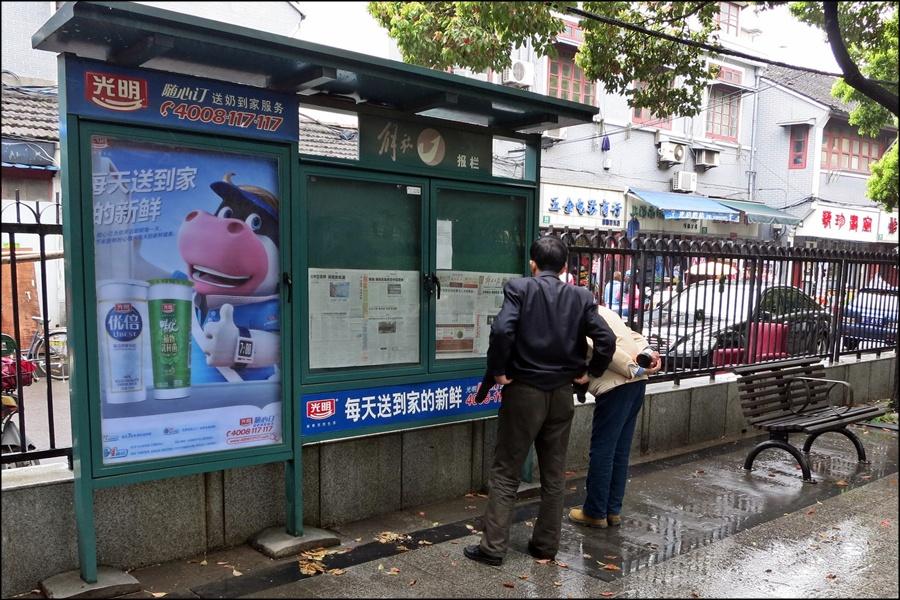 ...with a wander through an almost labarytnian indoor market of neighbourhood stalls, selling everything from...well, everything...if you could find it in a department or hardware store, there's a good chance you'll find it here. Maybe a hundreds very small shops in a single building. I've never seen anything like it where I've ever lived.
...and that sign must work at least a bit. I didn't see one single copy in any stall in that particular market area, and I looked.

...and back into Cheng Huang Miao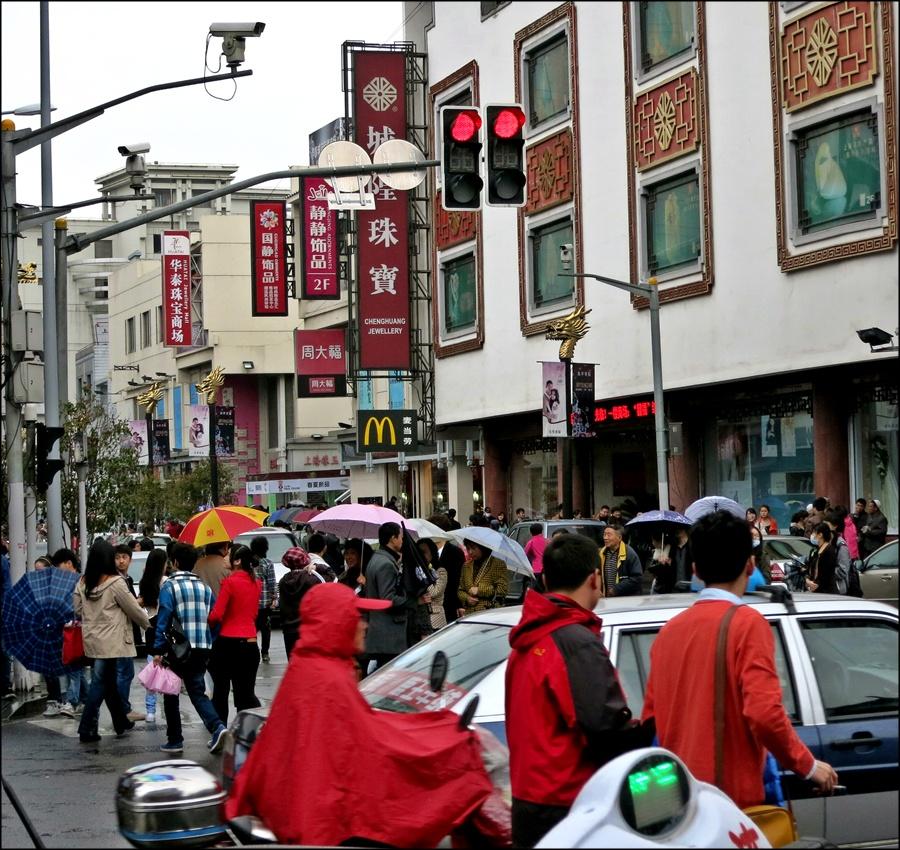 I was particulalry impressed by this fellow...an exhibitor from the Yuyaun Folk Craftsmen. His specialty is crafting intricate sculptures from cut and folded palm fronds.
After that, it was back to my hotel for a bit, then out again, this time no jacket but in what became pouring rain, to shoot some lights and neon (some of you might recall from my last visit thatI like doing that in China). These were taken in and around Shanghai City Center. I got soaked to the skin and had a blast.

There's some watch content here...kinda...
...and that's the 5th, which will lead me to...
April 6th in Shanghai: the Bund, Pearl Tower & the Memorigin, CWEA and Iwatch.com Dinner
...which includes a daytime visit to Shanghai's Bund (and some shots of the Pearl Tower), followed by a fascinating dinner with WatchuSeek member ntchen2 and his very welcoming friends...

WatchuSeek member ntchen (who I'd first met on China's iwatch forum) and I had made plans to meet in Shanghai, along with WatchuSeek member 13143268 (Sean), and April 6th was the day this was gonna happen, so I knew it was going to be a fine enough day. I had no real idea...;-)

I wanted to start the day with a visit to Mr. Billy's Handmade Shoes in Shanghai, which I'd read about on the net, but Billy's store was closed when I got there, and it looked dusty, almost boarded up, and very closed so I took a cab back to the hotel, and then headed straight down to Shanghai City Center for another look around. And the weather was windy but much more sunny than the last couple of days, so...good.

Now, Shanghai City Center is a tourist mecca in Shanghai...loads of high-end and mid-market shops, many of them large. It's readily apparent that this is a cosmopolitan area of town, teeming from early on till quite late at night with people from all over the world shopping and taking photos of each other and of the stores...and when in Rome...
...but if you go two blocks away from that very fashionable section, you get another fascinating and friendly day-to-day Chinese big-city neighbourhood...
After that walk-around, I grabbed a couple of hot lamb skewers from a street seller and then headed to the Bund for some shots of the riverfront and the Oriental Pearl Radio & TV Tower / 东方明珠塔...
...and I still had the evening to come...

Chen had contacted me some time ago and I was really looking forward to seeing him. He had expressed that he didn't speak much English but he'd already shown his English is miles ahead of my Chinese, and Chen had also noted that Sean was very English speaking as well as fine at Chinese, so I anticipated a small, relaxed and fun evening with a couple of watch friends.

Not quite how things turned out.

During the day, while I wandered from Shanghai City Center to the Bund, Chen and I were in touch by phone text but Sean had called to -- very unfortunately -- note that he couldn't make it as he was quite sick with a bug of some sort. Still, Chen and I were going to meet and I still thought the two of us would have a fun night doing whatever the two us us would end up doing.

Back at my hotel, Chen pinged me on QQ (like Messenger but Chinese) saying he was now in Shanghai, so I asked "where should we meet"? Chen replied: "look at the photo"

I did. I saw:
Chen was right outside my hotel.

So I went down and found Chen with two friends of his. OK...more folks to have fun with, and we all head upstairs to my room for a bit...where I was astonished to be presented with:

Tourbillon cufflinks and some very high quality Memorigen promotional and technical materials.

哇!!

Following this very pleasant surprise, Chen said we should head downstairs, which I gathered meant to find some place to eat, so off we went in Chen's friends car. We headed down some major roods and then...turned off into...some deeper into the maze alleys (???) finally coming to rest here...???...
...which is, I soon found out, right round the corner from here:
...where, very very much to my surprise, this group ended up being assembled :
Xiaobo Yuan (Member of Chinese Watch Enthusiast Association/likes Chinese watches best),
Jian Chen aka Ntchen2 (The leader of Chinese Watch Enthusiast Association/likes Chinese watches best)
Ron/AlbertaTime (very fortunate old man/likes Chinese watches best),
Gang Li (Member of Chinese Watch Enthusiast Association/likes German watches best),
Liang Chen (Member of Chinese Watch Enthusiast Association/likes Swiss watches best);
Hao Shen/Uncle Watch (BBS Moderator of Zenith Forum on the website: http://www.iwatch365.net) and
Wei Shi (Member of Chinese Watch Enthusiast Association/likes Chinese watches best).
My very sincere gratitude to all who attended.

This assembly is mostly a group whose focus is on modern Chinese watches much more than (or as well as) VCMs, brands like Apogee and Memorigen, for notable examples displayed at the table.

The rest of the evening was spent with watch talk, general friendly conversation, astonishing food (jellyfish, for example, is very good, I found out...and almost crunchy :-!), some straight up and delicious jet fuel that came in a blue bottle...and premium horological eye candy...so here's photos from the rest of the evening.
..including this impressive box of international candy...
Gratitude Section...
I had a great time. The hospitality and friendship I was shown will stay with me forever. I do know I'll never really have the words to describe my gratitude for how I'm was welcomed in China.

So next: the Longmen Grottoes, checking off a major item on my bucket list. But before I leave Shanghai...**Lotsa** watch content...and lotsa gratitude...

Here's the watches (and some additional ephemera) I'd been blessed with so far on this trip (with huge thanks to a number of very kind people for most of it)

Mr Zhou, webmaster of the Chinese watch forum at www.watchstore.cn, provided this lovely Qionghua...
...and this collection of Zhongshan dials:
This rare prototype piepan dial Zuanshi (with a S marked on the back case) was given by Mr Shao, webmaster of the Chinese watch forum: yiwatch.net:
These original research papers on the A-581 and SS1A movements were written and provided by Mr.Cheng, the webmaster of China's yiwatch.net and camgle.com, (Once translated and placed at the AMCHPR, this will be the first time the documentation will have been seen in the English language):
This masterful list of watch brands and originating provinces was gifted by Mr. Zhou:
I believe Mr. Tong (or possibly Joel?) provided this original translation of the article where I was quoted in China Watch and Clock's "Fans of Timekeeper" supplement:
...and here's the copy of the article itself, now signed by both the author, Mr. Tong (Production Team member for the A581 movement as well as the former vice chief engineer of Xian HongQi Watch Factory and the former Senior Engineer at Shanghai Watch Factory) and Mr Jiang (Designer of the Shanghai Watch Factory SS1A movement).
These next 8 watches were very generously gifted to me by Joel Chan: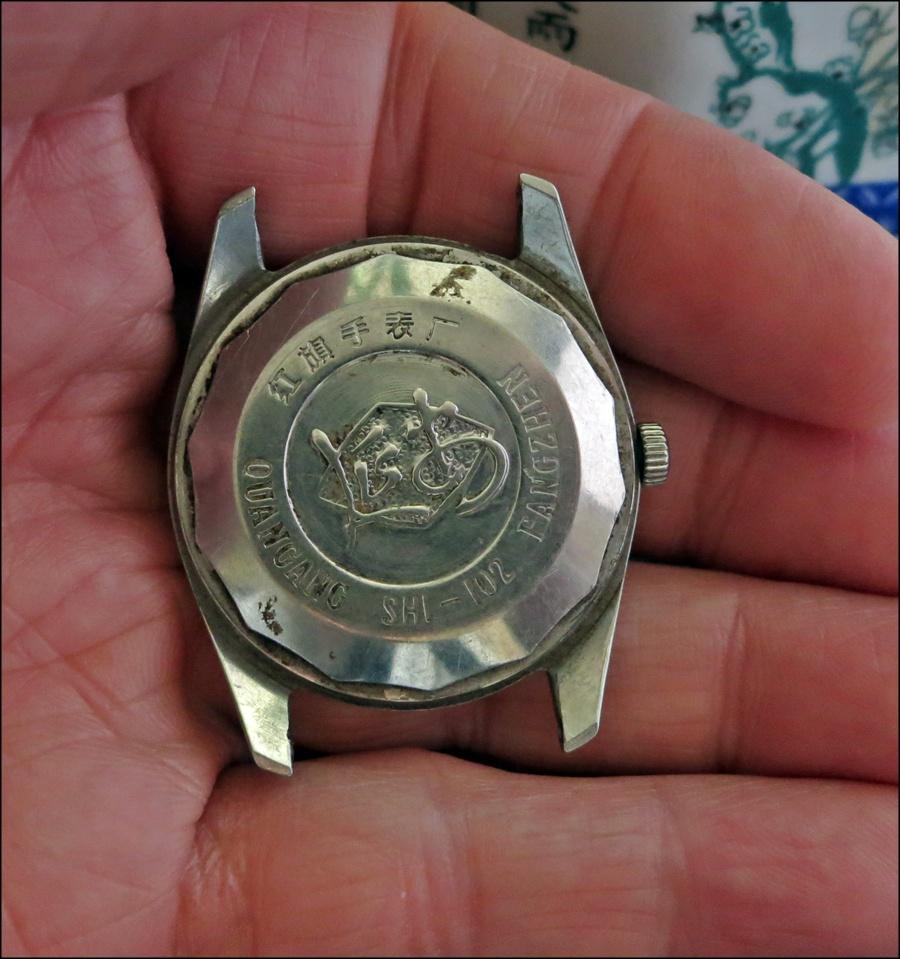 and this Zijinshan which Joel says can be my first successful repair as there's only a couple of small things wrong with it ;-)
...and here's a couple I picked up myself at the Dongtai Lu market, the first from the seller I shook hands with (Joel's good friend...who gave me a much better-than-usual deal) because I don't recall seeing a Hai Shi with the red Hai Shi characters between the branding...
...and this because I wanted a day/date Chunlei:
...and, yes, I do feel like one of the luckiest people on the planet :-)