AlbertaTime returns to China: Beijing April 24-28th
First night back in Beijing: the Lishi Hutong and the Great Wall
I'd been looking forward to returning to Beijing, especially since this time I'd managed a reservation at the Xiaoyuan Alley Courtyard Hotel in the Lishi Hutong. I'd seen (and photographed the outside of) the place last visit when I stayed at another hotel, but I had not realized the Xiaoyuan was more than just a neighbourhood bar. I found out since I returned from China the first time that the Xiaoyuan is actually a very nice -- and quite affordable -- family-run hotel with 12 guest rooms, and two private courtyard areas (one central and covered indoors, another outdoors and upstairs but being renovated when I stayed). The location is excellent for Beijing tourism: it's within about 20 minutes walk of the Imperial Palace and so on, and it's smack dab in the middle of Beijing's very intriguing downtown hutong (alleys) section.

My room in Beijing ($60/night):
The interior hotel courtyard:
Just a few photos of my "home area" in Bejing, the Lishi hutong...
My time was limited, though, because being in Beijing meant my time in China was coming to a close and I still had lots on my agenda including visits with LiWei to the Beijing flagship store of Beijing Watch Factory, spending time with Liu Shuli and clock-maker Stephen Green at Liu Shuli's Beijing Wangfujing Jingshi Watch-Clock Shop on the Dongsi Bei Da Jie (and I had no idea how fascinating that would turn out to be), revisiting Mr. Cao at the Da Liu Shu market and having a couple of repairs done...and I'll get to all that, but today my plan was to see the Great Wall, at least a small part of it.

I didn't visit the wall last trip and was tired of saying "no" every time I got asked if I'd seen it.

And so, another gondola ride, this time to the Mutianyu section of the Great Wall
Now that I've seen this one small section of the Great Wall, I clearly understand two things: 1) the Great Wall is, yep...Great...as in _very, very_ big, and 2) I've only seen a very small fraction of it.

...Headed back down...
...and through the gauntlet of souvenir sellers...
My Great Wall tour companions from Benelux, Uruguay and Britain:
...and these last photos are from the "town" section just below the wall, where the locals live. The area surrounding this section of the wall is a thriving agricultural area (chestnuts, for example) that also has additional excellent income due to the Wall itself and the tourism that brings. As a consequence, this was described to me as one of the most prosperous rural collective areas in the country.
...Same youngster, later on his walk...
So now, since I'd put the Great Wall on my "been there, did that" list, and was very happily back in the Lishi Hutong, I was in a wonderful position to really enjoy the next couple of days in China (as long as I didn't dwell on them being the last days for this trip.)

Joel Chan (bless him) had once again very kindly made arrangements for me to meet a solid VCM and Chinese watch expert, and in Beijing that expert was the recent and welcome new WatchuSeek member Li Wei who is, among other things, the webmaster at China's Watchleads.com watch forum, and a highly respected long-time VCM watch collector and horological authority in Beijing.

But first, my time with Li Wei was scheduled to start at about 3:30 in the afternoon, so I had time to get to the Da Liu Shu flea market and Mr. Cao's shop there in the morning.

I was looking forward for a couple of reasons: Mr. Cao had always been very friendly when Martin (martback) introduced me to him last visit, and also because I needed a couple of watches repaired. It was a real pleasure to bring some repair business to Mr. Cao all the way from the AMCHPR in Canada. Some of you may remember that the AMCHPR had been sent a Hanzhong watch by WUS member OilersFan...
...and also an ST7 mechanical wind by Kungfucowboy...
...both of which had arrived (as they'd been described to me before I received them) needing some repair to be in the best working order.

So here's photos of Mr. Cao working on the watches...you can see the Hangzhong staged for repair next to where he's working.
...and some photos of the market that morning.
Next stop meant returning to Lishi Hutong to meet with Li Wei who arrived promptly at our arranged time and here's a shot of our first moments together in the courtyard of my hotel, kindly taken by hotel staff.
The very first thing I noticed because I'm highly trained ;-) was Li Wei's immediately drool-inducing watch: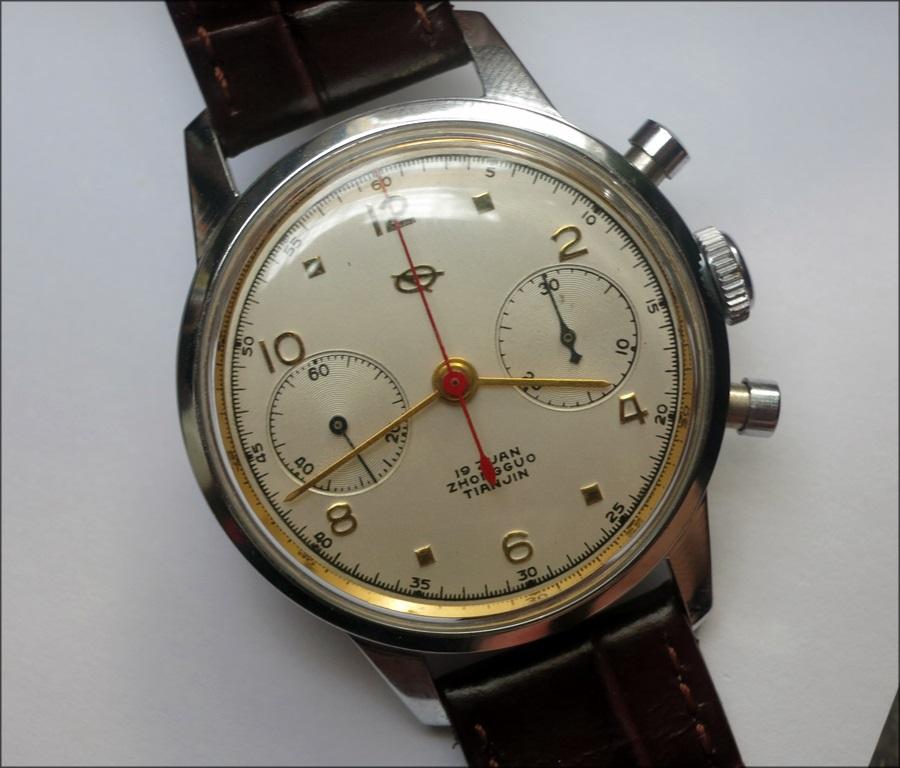 it's a '63 Tianjin PLAAF chrono, and I could tell at an instant's glance that it's an original. It also contains a very finely finished movement with full factory markings, and LiWei tells me it's "ST3" and the only one of this version.

Photos: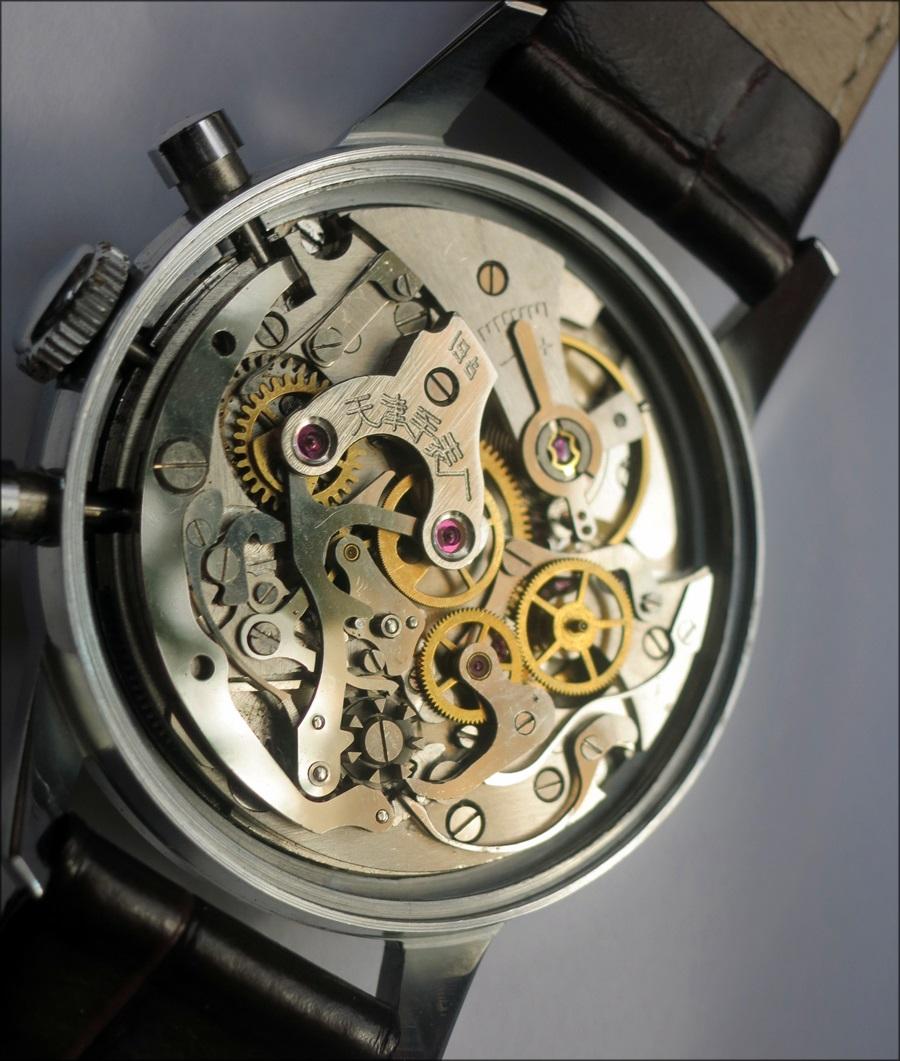 (...and a Tsinlien HK Sea-Gull 1963 movement from WatchUnique for comparison)
Now, if you look closely in photos to follow, you might see that LiWei is wearing two watches, another watch on his right wrist. That comes later ;-)

(NOTE: The photos here and in the next Beijing post with Li Wei and me are from the same occasions as LiWei's post at WatchuSeek....

Our next stop was the Beijing Watch Factory flagship store.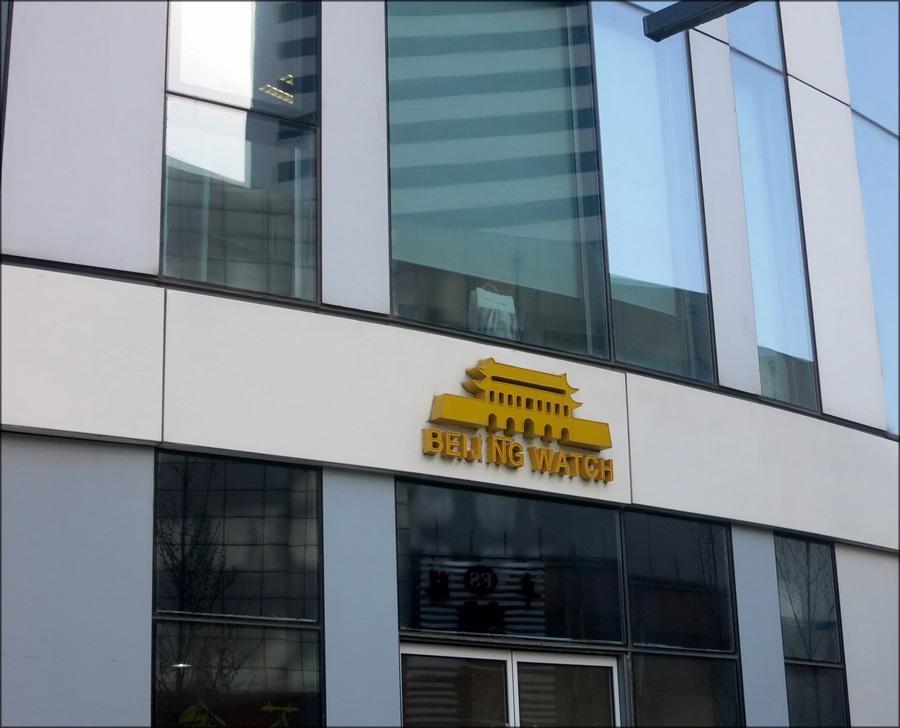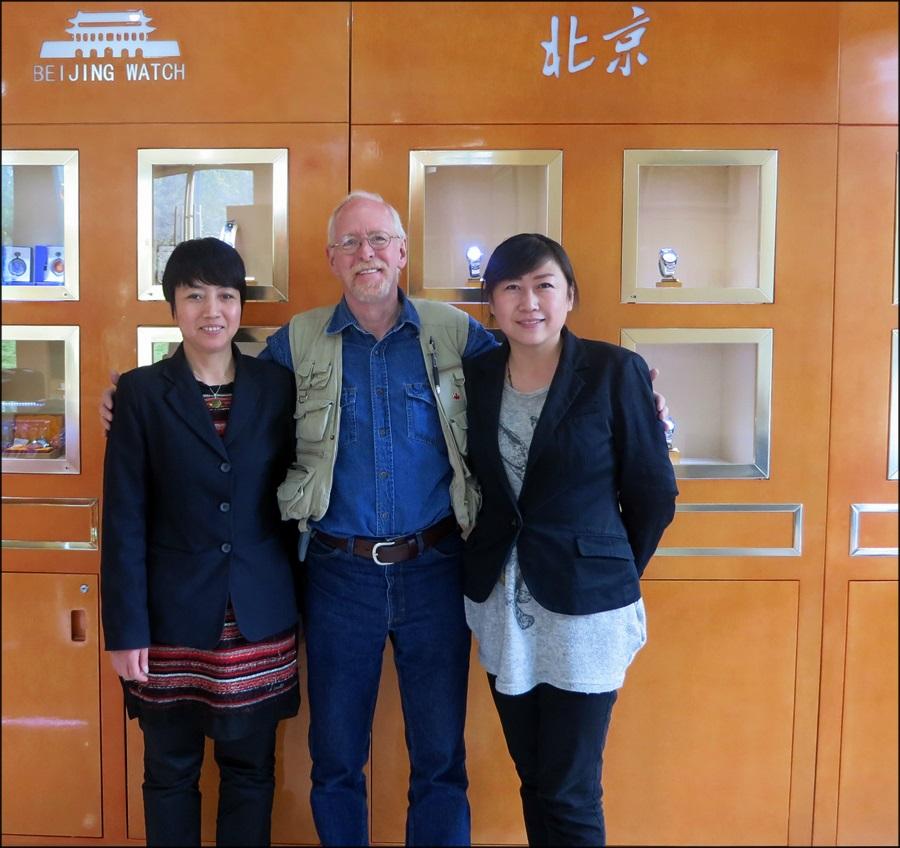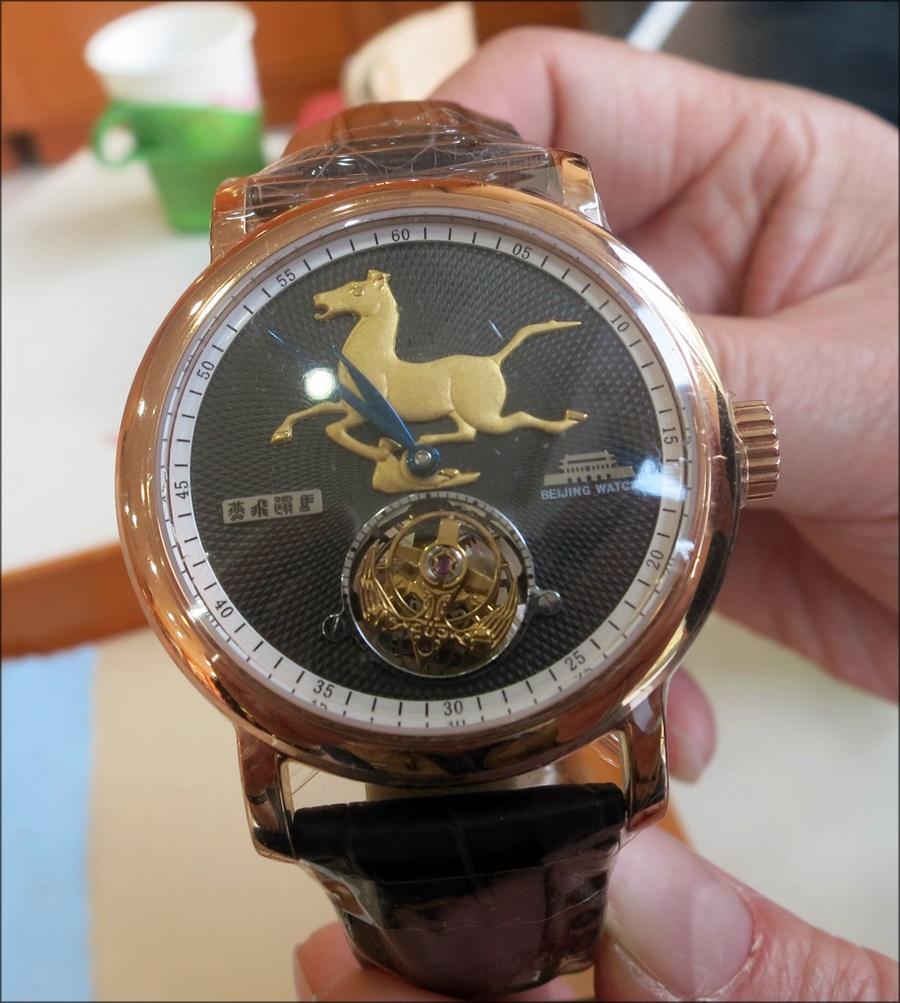 ...where I noted in an earlier post that I purchased this:

from earlier_18

...and here it is being wrapped for me :-)
The next stop was very close to here: the Longio store which is in a different section of the same building (Sanlitun SOHO, Chaoyang District.) Here's Li Wei discussing with Longio's Mr. Chen Yanchen, and the "proof of good time" phot with LiWei, Chen Yanchen and myself.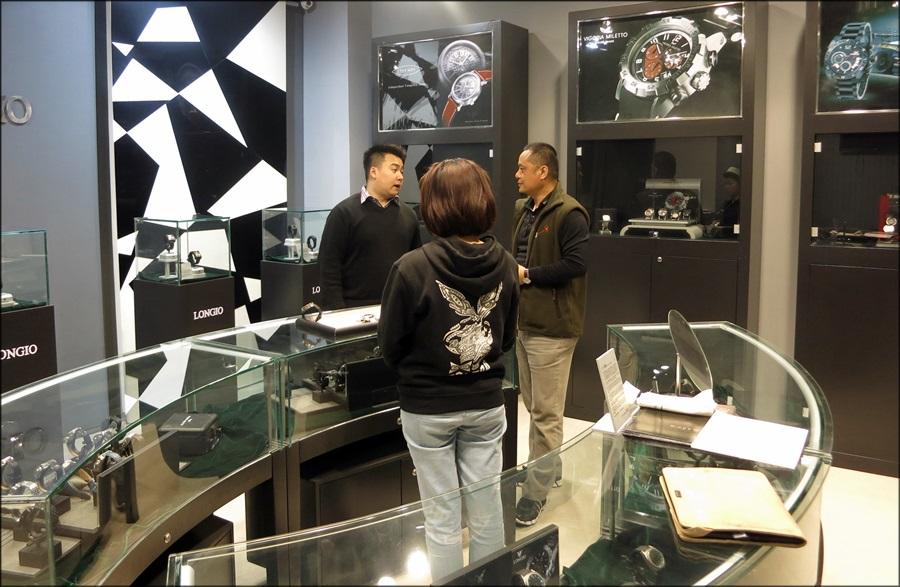 Longio's offerings are -- not exclusively, but for the most part -- aimed at a decidedly different demographic than BJWAF and it shows in many of the Longio offerings. Remember that 2nd watch Li Wei is wearing, on his right wrist? Here it is:
And here's the same model on a different strap and my wrist, and then the caseback: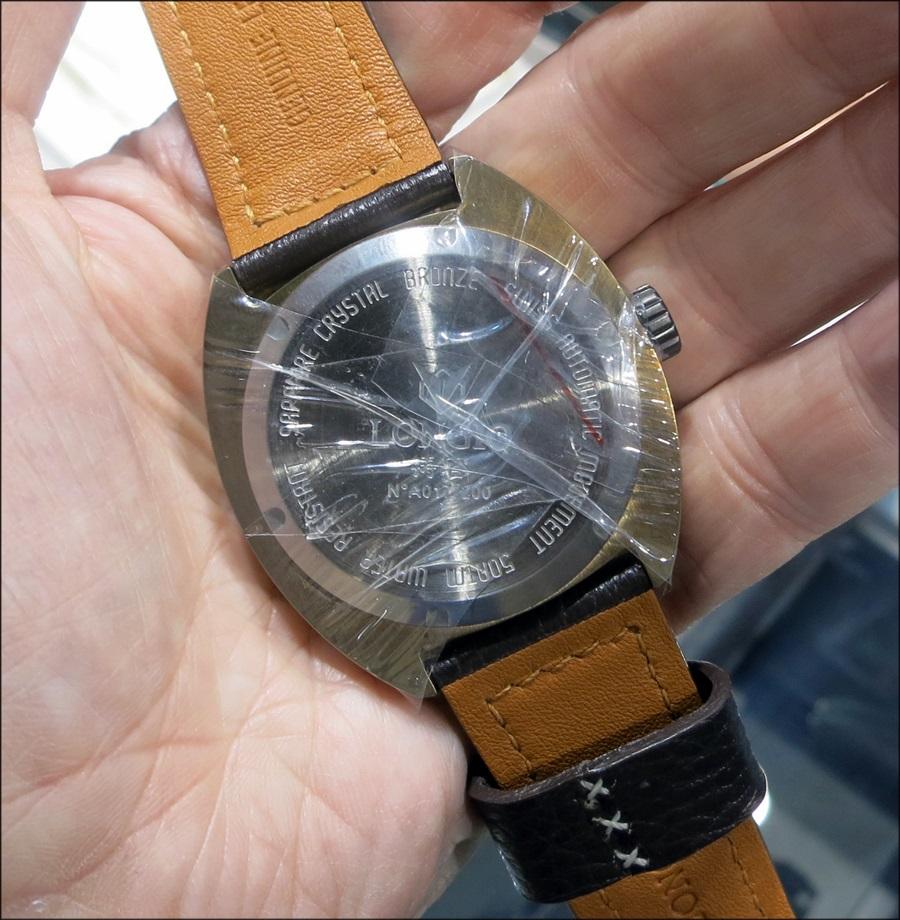 (You'll also notice that many Longio watches run Swiss movements). Here's more of the Longio watches I was allowed to handle and/or try on: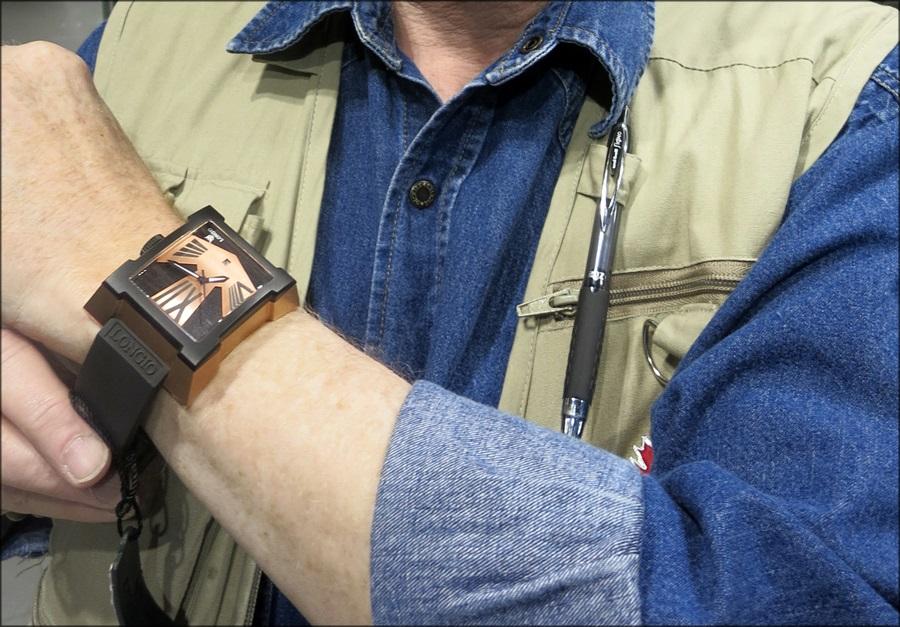 Heh...note the fuzzy, well-armed wrists in the top left corner of this shot
Chen Yanchen, Li Wei and the customer service staff discussing while I play...
(I love this tourbillon...it's heavy and solid instead of formal and fine, and for some reason most designers have opted for dressier tourbillons. There's a place for both. I'll say this: nothing about the piece felt fragile.

Very soon, a complete and terrific change of pace.

Last visit, on my last full day in Beijing, I'd very happily chanced upon a real watchmaker's shop. (Photos from the last visit):
This place was obviously more than just a retailing; this was serious watch country with obvious history

Baoshihua Gold on the Dongsi Bei Da Jie

And, I'd been treated beautifully by the person running the shop at the time. It made leaving Beijing even harder :-( but for a watchlover like me, it was also like stumbling on a goldmine eye-candy store. I was going to revisit the shop this time...

...So I was very pleased --and a bit surprised at the synchronicity -- when Li Wei told me he wanted to take me to his friend's shop, and then told me his friend, the store owner, was Liu Shuli. I recognized the name.

I'm pleased to introduce Liu Shuli, shop owner and master watchmaker, as a very good-natured, gracious and generous host.
And his store is a wonderland for watch and clock lovers...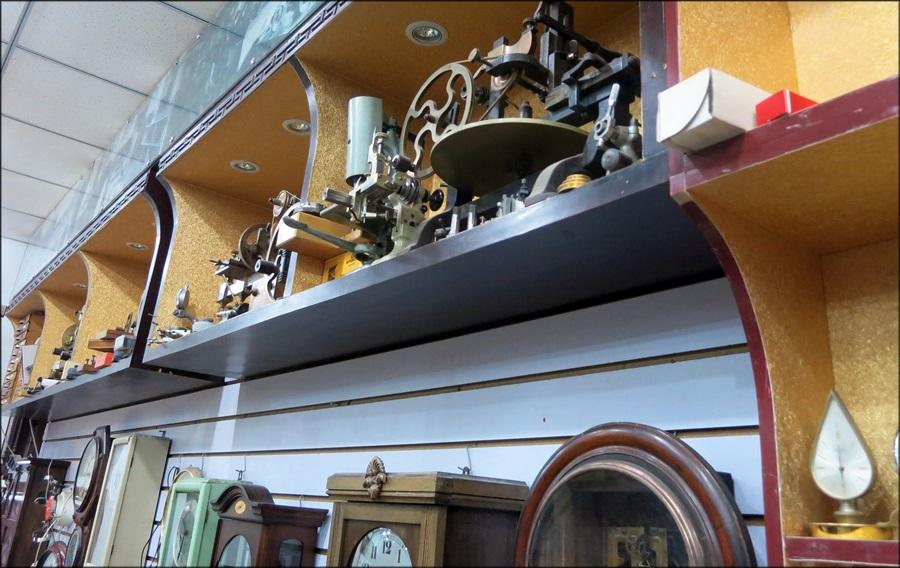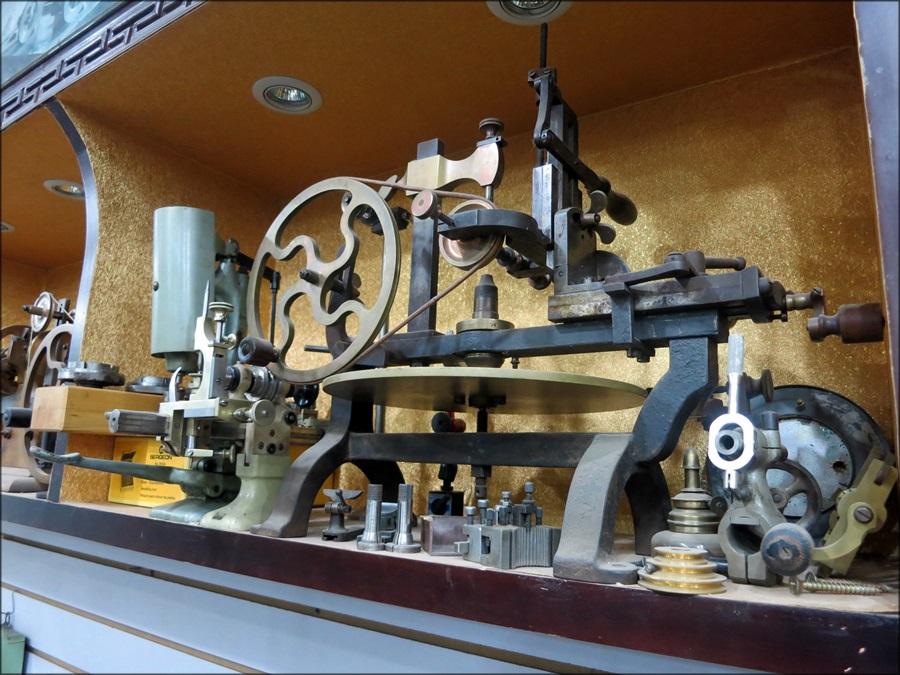 The next two photos are Australian born Steve Greenhalgh, engineer and clockmaker and his clocks. Steve is a resident clock and watch maker (and machinist) at Liu Shuli's shop, and has been for years. However, it's Steve's day off so he and I won't meet until tomorrow.
The next while is gonna be drool city for VCM ephemera collectors, as Li Wei and I follow Liu Shuli to the a back area of his shop...where I was shown this treasure house of VCM backstory...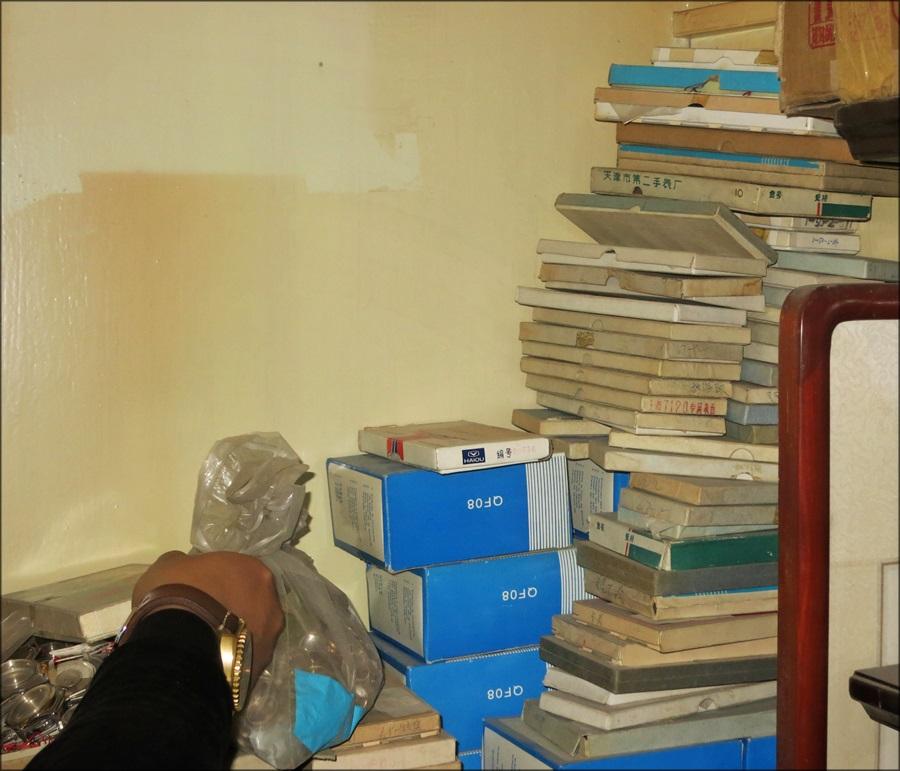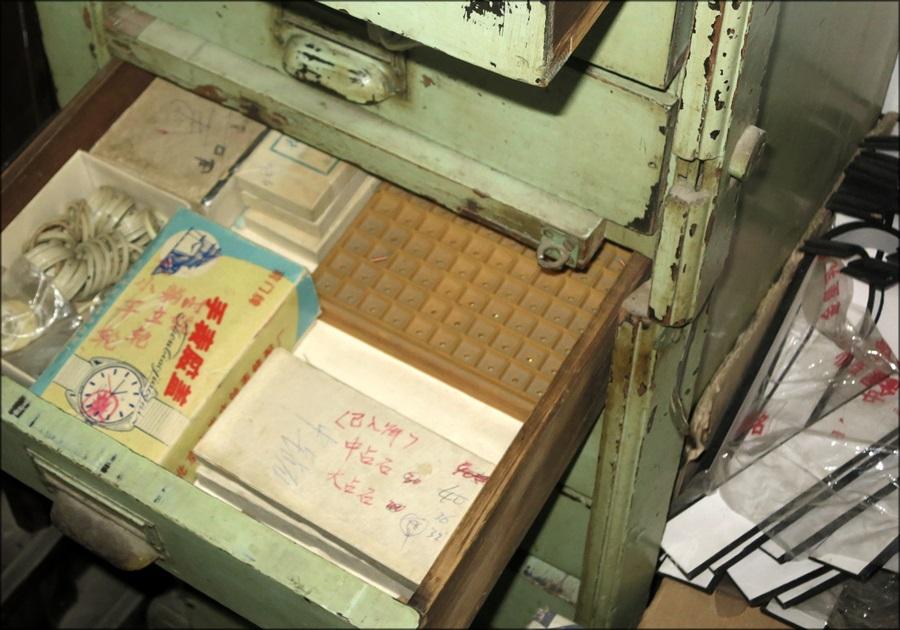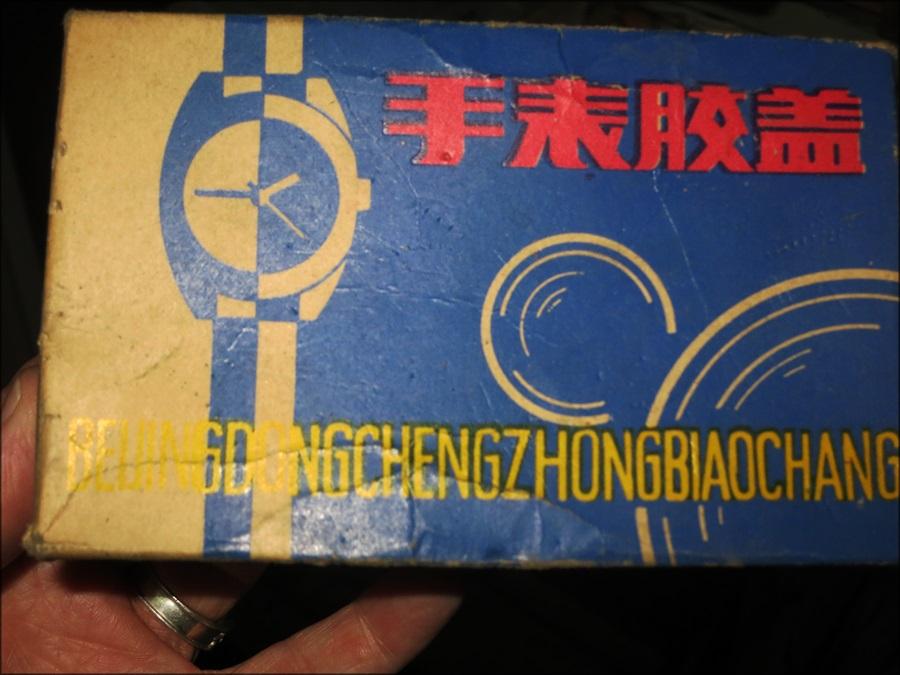 Here's a peek at the business's reference library. The shop does a very good business as one of Beijing's best known resellers and repairers of Swiss and German as well as Chinese and other vintage pieces.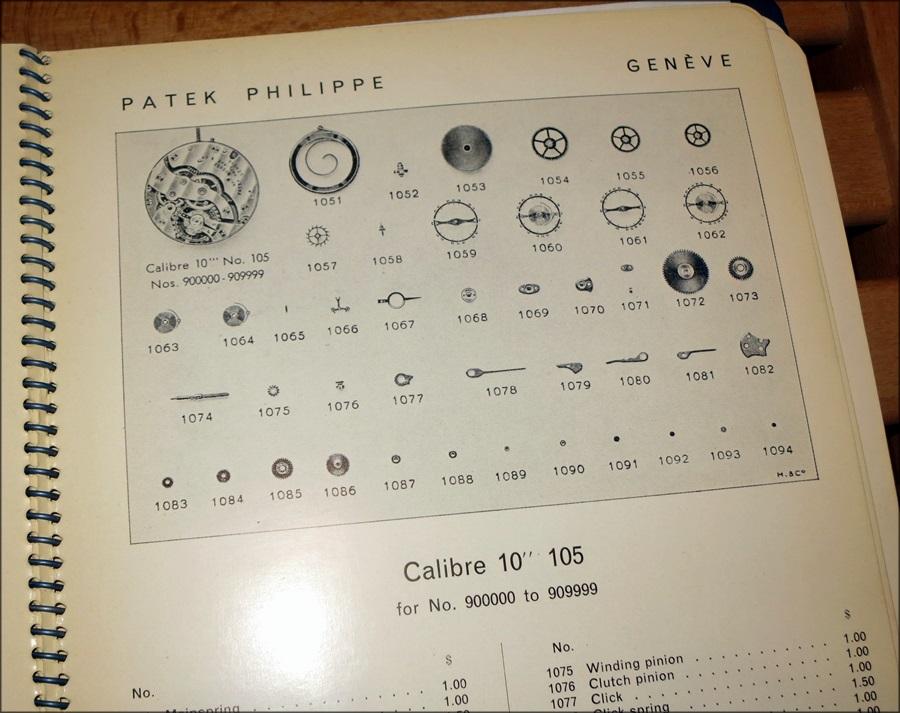 And a peek at a couple more bits of mechanical cool toolness
The evening ended when Li Wei, Liu Shuli along with a good friend of theirs, and I went to a somewhat late dinner. Li Wei and I made arrangements to meet the next day for more exploring...and for a meeting with Steve Green, the builder whose clocks you saw earlier.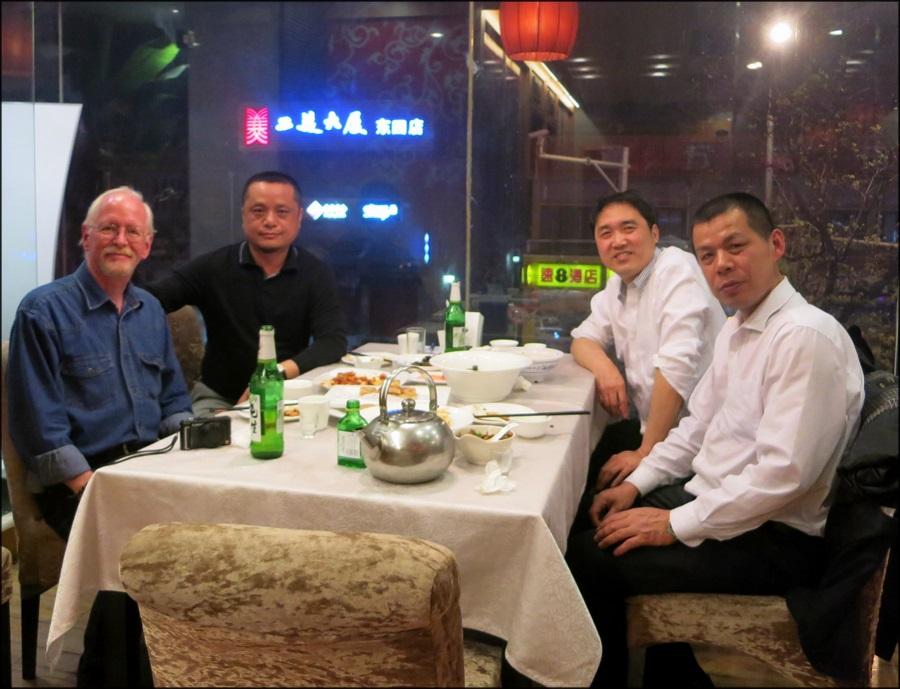 It was a pretty busy ew hours from 3:30 to about 11 PM, on a very warm, lightly breeezy Beijing spring day. This post is already almost 80 photos long so I'll wait till next post to tell more about my, among other fun things, the meeting with the very inventive and highly sociable Steve Green, resident watchmaker at Liu Shuli's shop, more about visits to sellers and collectors at Panjiayuan, and more gracious generosity to the AMCHPR.

Post #19 - Beijing Day 2 with Li Wei and Stephen Greenhalgh

(The photos here are from the same 2nd day together occasions as shown in Li Wei's post at China's Watchleads and LiWei's post here at WatchuSeek)

Continuing from where I left off in Post # 18...

The next day:

Li Wei and I met up at Liu Shuli's shop where Li Wei introduced me to Stephen Greenhalgh, the resident English speaking clock maker and machinist at Liu Shuli's shop. Stephen has worked with Liu Shuli at Liu Shuli's shop on the Dongsi Bei Da Jei for a few years now, having landed in China by way of Australia where he'd been an engineer.

After a very nice lunch together with Li Wei, Stephen and I spent a lot of that afternoon at the shop, exploring clock and watch stuff with Li Wei and Liu Shuli, and chatting about the life journeys and shared interests that eventually led us to meeting each other in Beijing. That chatting also included some time spent sitting on the front steps of the shop since it was a pretty nice day, which elicited a fair number of stares from passers-by who seemed to be wondering what the two old guys (both apparently "not from around here") were doing there :-)
Later that afternoon, Li Wei led us to the very picturesque Luogo Lane...
...where we spent the rest of the evening sightseeing and just enjoying each other's company.

The next day, Li Wei and I met at my hotel and then headed to the Beijing subway...
...which took us to the Panjiayuan market where Li Wei introduced me to a number of sellers that were new to me...
The woman in the center of this next photo speaks Mandarin...and excellent French :-)

Since I'm somewhat bilingual in Canadian French -- and much more fluent in French than Mandarin, for sure -- the two of us were able to chat quite easily with each other. I admit, it was a lot of unexpected fun speaking French in Beijing.
During this tour of Panjiayuan, I also re-visited Mr. Cao's Panjiayuan shop...
...after which I enjoyed joining Li Wei for yet another excellent meal, this time at a nearby restaurant with two of Li Wei's good friends from the Panjiayuan market joining us.
Li Wei's post at Watchleads has a photo of me in front of the Canadian Embassy. These next few photos were taken during that same stroll around the Embassy area of Beijing.
We ended the evening, and our time together this trip, and my last evening in China this trip, at a very busy and very friendly restaurant that Li Wei recommended as very good, and it's only a stone's throw from the Lishi Hutong, on Chaoyangmen S Alley. Following a terrific meal described humourously in Li Wei's post at Watchleads)...
...Li Wei and I said our goodbyes and I took a couple of last photos of the Lishi Hutong before heading into the hotel to prepare to leave China the next morning.
Lotsa gratitude and gifts post...2013 series ends.
Bluntly, I just don't know how I could thank Li Wei enough for his kindnesses to me while I was in Beijing, and for the generosity he seemed to bring my way from a very charming Liu Shuli, from the folks at the Beijing Watch Factory flagship store, from Stephen Greenhalgh, Chen Yanchen of Longio, the folks at Bastille/Orange County Choppers/Beijing and everyone else I met during my time with him. The friendship, his many friends, the food, the fun and his very warm welcome made my last days in China ... overwhelming.

By overwhelming I mean that it's taken me a month or more to process exactly how generously out of his way Li Wei went to provide me with what I experienced in Beijing in three very enlightening and very fast paced information filled days. The more I spent time with him the more I understood why so many in China clearly consider him a very welcome presence.

Here's some of the broadened "depth and scope" watch and clock related material I was mentioning as being gifted to the AMCHPR ... Where to start...???...

OhhhhhhKay. Start....here: 2 vintage Golden Rooster mechanical clocks...
A curiousity, next. I have no idea what these are except that I understood Li Wei as describing them as "watch parts" (my utterly inept Mandarin preventing further knowledge...), and I have a few flats of them. Cool. I presume for quartz or electro-mechanical but...
One thing I very much wanted to take back was some examples of watch flats, the cardboard boxes with (usually) plastic inserts that factories used to distribute watch heads to sellers. With Li Wei's help, I was leaving Beijing with these flats for the AMCHPR:
Now, at least as entertaining as those gorgeous hunks of vintage brand name cardboard ... here's what was _in_ some of the flats :-)
... and these dials and associated ephemera. (The Zhongshan dials were an especially nice find...)
Li Wei collects cameras as well as watches and very generously gifted the AMCHPR a 1960s or 1970s (I think) Taihu camera as an example of concurrent technology, complete with box and paperwork...
And these NATO bands and cleaning cloth courtesy China's Watchlead.Com watch and other collectors forum, where Li Wei is webmaster.
Modern Company branded ephemera from the Longio and Beijing Watch Factory stores...
Three beautifully printed collectors magazines (any translations would be welcomed!!) and please note: My host Li Wei is involved in two of the magazine articles.
And, finally, a very treasured gift to the AMCHPR from Li Wei and the Beijing Watch Factory flagship store:
As I understood Li Wei explaining to me: this was the last available copy of this publication. It's the vellum and paper photographic commemorative coffee table book for Beijing Watch Factory's prize Dragon and Phoenix, binding translucent sheets of text above gloss print photos of the hand engraved mechanical masterpiece.
So...here I write, at the end of the 2013 journey, still utterly astonished at the generosity of spirit and cordial, gracious friendship I encountered every step of the way, from my first re-meeting with Joel Chan when I'd first landed in Shanghai at the beginning of April and the very effective and generous efforts among his many friends to establish a world class "words fail me" itinerary for me in Shanghai, Tianjin and Beijing...

...to my last evenings in Beijing four weeks later, with my new teacher, student and friend Li Wei, and our mutual friend clockmaker Steve Greenhalgh.

And what felt like a hundred new friends in between, and everybody, to a person, as smiling and understanding -- and tolerant -- as a guest could ever hope, everywhere I went in China. Not so much as a cross word anywhere. And lots of smiles and lots of laughter.

I've tried to share what I saw and what I felt. And I've tried to express how grateful I am but I'm sure I didn't say enough, nor thank enough people. I presumed I'd be treated nicely when I got to China. I didn't anticipate that I'd be moved to tears as many occasions.

I also didn't expect being mobbed by friendly and curious kids in Zhengzhou and I didn't expect to lose my fear of heights at Guoliang (thanks, Sky).

I should have expected that leaving my brother Ma Rong (CameronMa) and his wife Qi Ran in Shijiazhuang for a second time would be as hard as it was, but I was right about how good it would be to see them again and to meet Ma Rong's parents. I knew it would be hard to leave China. And it was. Is.

I take pleasure in reminding myself that all this happened in my life only because of the friendship and support of people who share, across culture and language, our interest in wristwatches. I really hope that other collectors from "the west" and China can meet -- I strongly encourage other collectors to reach out and travel -- and I know that my friends in China, like watch friends everywhere ought to, understand that the AMCHPR always has room for a couple of visitors.

Common ground is valuable.

To everybody who has followed some or all of this series of posts: my sincere thanks for coming along, and especially for your comments and shared observations. Keep them coming. It's been a pleasure sharing my journey with you folks. With any luck: next year...Shenzen.